Kim Kardashian West's Somehow Makes Neon Pink Sweatpants Look Business Casual
She stepped out Thursday in a blinding take on a pantsuit.
---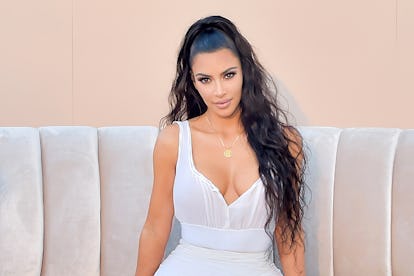 Stefanie Keenan/Getty Images
Kim Kardashian West's style is all over the spectrum: While she's never met a trendy athleisure getup she didn't like, she's also no stranger to a business-casual coat and trousers ensemble. It wasn't until this week, however, that she made the bold choice to merge these two disparate styles into a single, very confusing outfit.
On Thursday, Kardashian West visited an Ulta Beauty store in Calabasas to promote her KKW Fragrance line, which is now sold at the beauty chain. From the waist up, she was all makeup mogul: She wore a blindingly bright pink oversized blazer, styled her waist-length hair in middle-parted beachy waves, and sported fairly minimal makeup, with a peach blush and nude lipstick. From the waist down, though—and here's where things get confusing—Kardashian West took a more "street style star" approach. She wore a pair of baggy sweatpants in the same shade of neon pink as her coat, which Cosmopolitan has identified as a product of of British designer Ashley Williams. Dotting the front of each leg were a line of ancient stone heads, which either complemented or clashed with the black lace sock boots into which they were tucked, depending on your own personal style M.O.
Behold, the mind-boggling look:
The eye-catching printed sweats are a relatively new look for Kardashian West. Though she no doubt participated in the Juicy Couture craze of the early-aughts alongside her pal Paris Hilton, likely sporting pair after pair of brightly colored velour tracksuit bottoms, these days her taste in sweatpants veers more toward P.E. student than mallrat. Nearly every time she's stepped out in a pair of elastic-waistband, elastic-ankle sweatpants like the ones she wore on Thursday, they've been either a heather gray or earthy green shade. Not new, however is her tendency to tuck those neutral sweats into sock boots, for some reason.
If you're not a fan of Kardashian West's athleisure tendencies, you're not alone. As documented in a recent episode of Keeping Up With the Kardashians, Kourtney Kardashian doesn't approve of her younger sister's love of stretchy pants. "You look like you just won the Tour de France, cycling around town," Kourtney said, prompted by Kim's negative comments about her own "clown"-like ensembles during their trip to Japan. She continued, "Your fucking outfits suck. You're wearing a puffy vest, you have pink hair and turquoise shoes. I didn't come here to wear leggings that are see-through and show my ass. Do you know how easy it is to be a bitch? It takes a lot more courage to show your feelings and not sit here and be a bitch."
No word yet on how Kourtney feels about Kim's blazer-sweatpants combo.
Related: 8 Times the Kardashians and Jenners Wore Vintage Clothes