Kim Kardashian Advocates For Planned Parenthood on Keeping Up with the Kardashians
"The perception of Planned Parenthood is that it is an abortion clinic; that is nothing what it is like."
---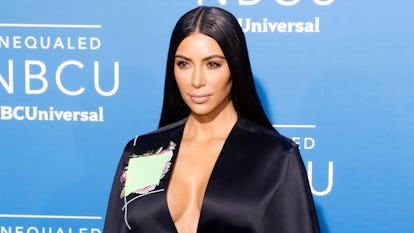 Taylor Hill/FilmMagic/Getty Images
On Sunday night's episode of Keeping Up With the Kardashians, America's favorite family got into the typical drama and hijinks that E! has trained us to expect each Sunday evening: Scott Disick is jealous of Kourtney's new boyfriend, so he takes 19-year-old actress Bella Thorne to the Cannes Film Festival to get her attention, as one does; Kim is uncomfortable with Kourtney's relationship with her assistant; Khloe gets a new driver's license.
But amid the familial and DMV drama, the episode also touched upon a critical social issue—the defunding of Planned Parenthood—rooting the show, for at least this week's installment, in relevant territory beyond the Calabasas bubble that has thus been missing from this season—a true back-step from last year, which openly and emotionally covered Kim's Paris robbery.
In one of the opening scenes, Kourtney and Kim are lounging, contemplating Instagram captions, when Kim asks, seemingly out of the blue, "What is all this Planned Parenthood talk where people want to protest for Planned Parenthood?"
Kourtney is no help—"You know I don't watch TV; I don't look online really," she said. So, they did as anyone would do when faced with the situation: call Khloe. "I am pro-choice," said the youngest Kardashian sister. "It doesn't mean I am for abortion, but I do think there are circumstances where people should be given the choice."
Kim, however, was still curious. "I want to have an opinion on this, but I just don't know enough," she said. "I do like to speak up on social media about topics that mean something to me, and I want to be more informed." So, the trio headed to Planned Parenthood's Los Angeles headquarters to learn more.
There, Sue Dunlap, president and chief executive of Planned Parenthood Los Angeles, greeted them with a tour of the facilities, as well as some background on just what Planned Parenthood does. "We've been around for 100 years, and just celebrated our 100th anniversary," she said. "One in five women of reproductive age will go to a Planned Parenthood. We primarily provide life-saving cancer screenings, STD treatments, birth control—ninety percent of the work that we do is preventive care."
The sisters also sat down with three women whose lives had been positively changed thanks to Planned Parenthood, listening intently to each of their stories—and, notably, giving the cause prime airtime to viewers who might otherwise not seek out the information like Kim."The perception of Planned Parenthood is that it is an abortion clinic; that is nothing what it is like," she said following the tour.
Added Khloe, "I'm a big fan of Planned Parenthood now. Meeting the girls and hearing their stories and seeing how many women have been helped by some of the services they have to offer, I think people need to be more educated in how they form opinions, and that is what I am grateful to have had the opportunity to do."
Related: Khloe Kardashian Says Keeping Up With the Kardashians Led To Her First Instances of Body Shaming
Miley Cyrus Gets Steamy for Planned Parenthood