Khloe Kardashian Says Keeping Up With the Kardashians Led To Her First Instances of Body Shaming
"I really commend my mom and my sisters for never making me feel less than."
---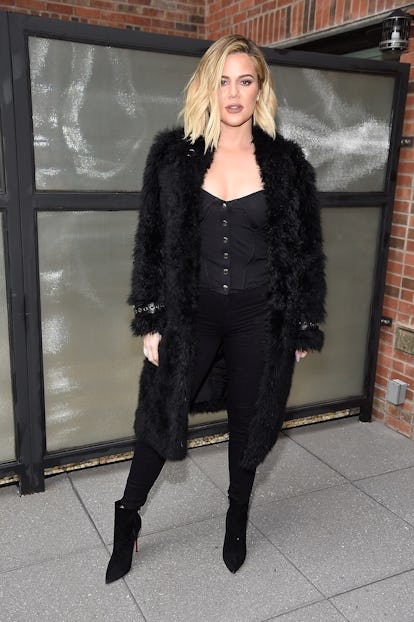 Kevin Mazur
On Thursday afternoon, Khloe Kardashian revealed a lot. Well, not everything—her much speculated-about baby bump was very much still concealed, hidden under a voluminous furry black coat. But it in terms of body positivity, her family's style, and role models, the reality star was a relatively open book during a panel discussion with her Good American denim co-founder Emma Grede, held at the Arlo Hotel in New York.
Good American offers denim in sizes 00-24, making size inclusivity a hot topic for the talk, which was moderated by model Leomie Anderson. "When I was younger, it was all about heroine chic, like Kate Moss. I think Kate Moss is fabulous and I love her, but that was never something that I could have been," Kardashian said of why it was important to include many sizes in the collection. "When I was younger, I was a lot chubbier and a lot rounder than I am today. I always thought, 'Who can I look up to?' I love Victoria's Secret models—not that I look like them much more—but they had a shape, they had bigger breasts, a little curve, that I could relate to a little bit more. Then J.Lo came along and I was like, 'Ah!'"
Kardashian added that growing up, she never considered her own body size until she began filming Keeping Up With the Kardashians. "I never knew I wasn't an ideal weight," she said. "My family never made me feel less than. My sisters and I all looked different. No one ever made me feel like I was chubby. I mean, they put me in more sports than the rest of my sisters, but I was more athletic than the rest of my sisters. I didn't know that I was bigger or different than them until I started doing our TV show. I started to be in the public eye and people were able to pick me apart…I really commend my mom and my sisters for never making me feel less than. Everyone always said, 'How do you have so much confidence?' I was like, 'I don't know, it is just the household I grew up in.' I was allowed to wear the body-con Herve Leger dresses that my sisters wore. I didn't feel like I was too big to wear that; I was like, 'I look cute.' Granted, I probably should have bought a size bigger."
Of course, as one of the most followed families in the world, Kardashian understands her and her sister's bodies—alleged baby bumps non-withstanding—are up for public discussion and gossip fodder, with every pound gained—or lost—scrutinized. Not that that makes it alright. "Just because you are thin, there is still bullying—that's how Kendall was all the time," she said. "People like to say 'You're not plus-sized so you don't have a problem,' but it goes on both sides of the spectrum and that is really what we are trying to just stop. It goes so much deeper than body-shaming."
In addition to the wide range of denim, the brand has now expanded to bodysuits, sweatshirts, and novelty t-shirts, and will launch it's first pop-up shop with VFiles this weekend. "I actually love being in retail," Kardashian said. "I miss my DASH days. I was an employee for four years and I miss it."
Of her own style icons these days, Kardashian immediately cited her family. (When mom Kris Jenner's brief blonde moment earlier this week was mentioned, she noted, "She was so drunk. I love her like that. I did get her drunk.")
"I just love the evolution of their fashion sense," she added. "I just love seeing the dramatic evolution of it. And then everyone's style role model is Rihanna. She's can do anything and it just doesn't make sense. It is really inspiring for me, because everything translates really well for her."
Of her ensemble for that day in particular—the aforementioned coat, a black corset top, and skinny Good American jeans—Kardashian said, "I'm in New York. I need a little Cruella de Vil in me." Plus, all the better to keep that pregnancy mystery alive.
Related: Kim Kardashian Reveals Her Skincare, Makeup and Fitness Secrets (Including Why She Endorses Wearing a Girdle)
Here Are the Real Heroes of the Kardashian Jenner Family Empire