Kim Kardashian West Finally Confirms That She's Expecting a Baby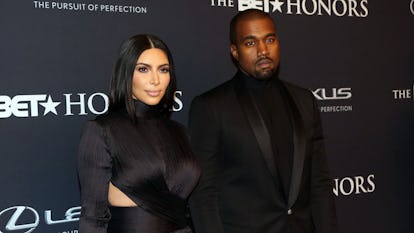 Johnny Nunez/WireImage/Getty Images
While countless news sites have claimed they have "official confirmation" of Kim Kardashian, Kylie Jenner and Khloé Kardashian's simultaneous [pregnancies]https://www.wmagazine.com/story/khloe-kardashian-pregnant-with-tristan-thompson), it's worth noting that none of the three expectant mothers have actually confirmed (or denied) the news themselves—until now, that is. In a new promo for the 14th season of Keeping Up with the Kardashians, which premieres this Sunday, October 1, Kim finally admits that she and husband Kanye West are in fact expecting their third child.
At the very end of the supercut, which teases several of the season's most dramatic moments and was unveiled by E! News on Thursday, Kim shares the big news with Khloé via FaceTime. "What happens every time I say, 'Guess what?'" Kim teases. Without skipping a beat, Khloé immediately responds, "Pregnant, the person's pregnant," leading Kim to reveal, "We're having a baby!"
Although Kim doesn't say anything about using a surrogate in the short clip included in the promo, that's presumably who is carrying the child. Not only is Kim not currently showing any signs of pregnancy (and by now, she would be more than halfway through the pregnancy), she has also spoken in the past about how a third pregnancy would be potentially life-threatening for her and has discussed the idea of surrogacy on past episodes of the reality show.
TMZ reported in June that Kim and Kanye had hired a surrogate to carry their third child, and People announced earlier this month that the surrogate was indeed expecting Kimye's newest addition. "The entire family is over the moon," a source told People. "They want everything to be perfect and for the baby to be extremely healthy. They don't want any complications and Kim is providing an ideal eating regimen and diet so everyone knows what the baby is consuming before it's born."
Since then, two of Kim's younger sisters have also been the subject of pregnancy rumors. On September 22, news broke that Kylie was reportedly five months pregnantwith boyfriend Travis Scott's child. The 20-year-old has kept her lips zipped on the topic, and apparently plans to continue to do so, as mom Kris Jenner told Ryan Seacrest via text earlier this week, "Kylie's not confirming anything." Then, on September 26, it was reported that Khloé is carrying boyfriend Tristan Thompson's baby, and is due around the same time as Kylie. Like Kylie, Khloé has responded to the rumors with total silence. Keeping up is certainly hard work these days.
Related: On the First Day of Fashion Week, Kim Kardashian Goes Blonde, May Or May Not Be Having a Baby Girl
Kanye West Just Wants to Bring Joy to the World Like Will Ferrell in 'Elf'