Kim Kardashian West Is Producing a Prank Show for Celebrities and Their Kids
It's called "You Kiddin' Me."
---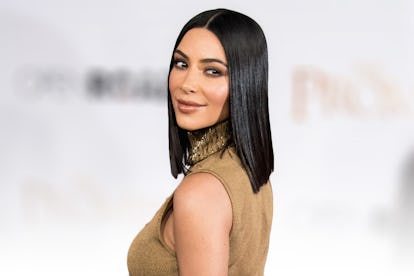 Getty Images
The Kardashians's vast reality TV empire will now include a prank show. On Friday, Kim Kardashian West announced that she would be producing a new show for Facebook that's essentially Celebrity Family Feud meets Punk'd. Despite the fact that Kris Jenner said she couldn't imagine her grandchildren getting their own spinoff, this show certainly seems inspired by them.
Called "You Kiddin' Me," its basic premise revolves around celebrities getting owned by their children via prank, Variety reported. Essentially, various famous people will come on the Lionsgate-produced show with their spawn, who then get to tell their parents to do whatever they want. According to the producers, this televised power flip is "inspired by Kardashian West's own fun family antics."
"I know from firsthand experience that children are wise beyond their years and can come up with the craziest things, so imagine how funny it will be to see them make all the decisions," she said in a statement to Variety. "I'm delighted to be working with the Lionsgate and Facebook teams on this exciting new venture and invite viewers to witness their favorite celebrity parents get pranked when we launch the series on Facebook Watch."
According to Variety, viewers will be able to catch the show on mobile, desktop, and Facebook's TV apps. There's also an interactive element, wherein Facebook users will be selected to prank their favorite celebrities, and the top prank ideas will be crowdsourced from Facebook users. There's no word yet on the air date, or which celebrities are being considered for the show, but they'd better include the Knowles-Carter family and the Teigen-Legends.
In other non-KUWTK reality-TV news, America's most famous family will soon make an appearance on Family Feud. On Saturday, Kardashian West fired off a series of tweets confirming that she and Kanye West would be battling Kris Jenner, Kendall Jenner, and Khloé Kardashian. People reported that "Team West" would also include Kardashian West's friend Jonathan Cheban, while the Kardashian grandmother Mary Jo Campbell will be joining "Team Kardashian-Jenner."
Related: A Definitive Guide to How Kim Kardashian Really Feels About Each of Her Family Members