Kit Harington Will Be on HBO Forever, Signing On To New Series Gunpowder
The HBO heartthrob will star in Gunpowder, a 17th century period drama about the attempted assassination of King James I.
---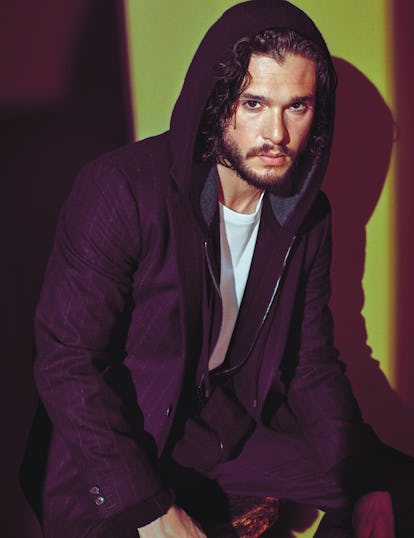 Photographs by Mario Sorrenti, Styled by Edward Enninful.
HBO heartthrob Kit Harington is also about to be HBO Europe heartthrob Kit Harington, as he will star in the lead role of Gunpowder, a 17th century period series recently acquired by, yes, HBO Europe. It turns out that once you bring in viewership as large as Harington's Jon Snow does on Game of Thrones, you're an HBO cast member for life. So even if Jon Snow disappears from Game of Thrones again, you won't have to worry about missing out on Harington because apparently he will never, ever leave HBO.
Gunpowder centers on the Gunpowder Plot of 1605, which was a plan to blow up the House of Parliament in an attempt to assassinate King James, Variety reports. English historic figure Robert Catesby schemed—and failed—to assassinate King James I of England for lack of religious freedom for English Catholics under the king's rule on November 5 1605, alongside infamous plotter Guy Fawkes. The night of the failed assassination attempt has become a cornerstone in popular culture, inspiring the iconic Guy Fawkes mask in the dystopian thriller V for Vendetta starring Natalie Portman, which was later adopted by the international hacker network known as Anonymous. Harington will play the lead role of Robert Catesby, of whom he recently discovered he is a direct descendent.
The historical limited series was developed by Harington's production company Thriker Films and the BBC, and will air on HBO Europe as well as HBO in the United States. On Gunpowder, Harington will also be joined by Liv Tyler, who most recently cemented her status as a member of the HBO family with her role on The Leftovers. The Hollywood Reporter reports that Gunpowder will be Thriker Films' first big production, but that Harington began developing the story about three years ago, long before his Game of Thrones character was resurrected. Despite being listed as GQ's worst dressed celebrity, Harington's very handsome face will likely make up for any personal sartorial slights and be enough to bring in big views for this HBO period drama when it premieres.
Related: Kit Harington Rehearsed the Ending of Game of Thrones, and It Brought Him to Tears
Kit Harington Auditioned for "Game of Thrones" With a Black Eye