Kourtney Kardashian Would Like You to Know She's Very, Very Busy, and Doesn't Have Time for Instagram Trolls
"My attorney's on the other line to discuss 6 business deals."
---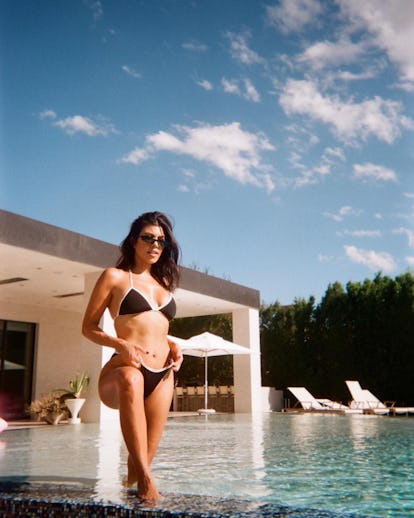 @kourtneykardash
Somewhere in the world, Kourtney Kardashian took a day off. Just before the long weekend, a month after she was spotted maybe back together with Younes Bendjima, she took some time to lounge by, and in, the pool with her sister Kendall Jenner. Kendall took photos; Kourtney posted them to Instagram. She captioned the short slideshow, "sometimes you just need a day away, pics by kenny."
As the comments started to roll in (at publication time, the post had earned more than 1.5 million likes, a pretty solid number for the "least interesting to look at" "new Rob" Kardashian), Kourtney decided to respond to what she saw as a particularly unnecessary remark.
"But sis you never work lmao," a user commented, per a screen cap posted by @commentsbycelebs. ("Go off, Kourt," the account captioned the post.) Commenter, you are mistaken! "Let me respond to you with all the time I have," Kourtney, newly minted Interesting Kardashian, began. Unfortunately, though, by even deigning to respond, she was perhaps illustrating that she had more time than a non-Instagram-troll observer might anticipate. Then again, it's not even really a day off—she's still producing some much-needed Kardashian content.
"Oh wait, my attorney's on the other line to discuss 6 business deals, I have a camera in my face filming season SIXTEEN of KeepingUpWithTheKardashians (you may have heard of it) and I'm raising my 3 amazing children…" she continued. To wit: Last weekend, per E!, she, Scott Disick, and those three children went to New York to film scenes for the show. She also was charged with the precious task of preparing guacamole, recipe courtesy Kris Jenner, for the family's Labor Day celebration. "God bless you and your worry about me," she concluded. She finished off the caption with the smiley and sparkle emojis.
"You may have heard of it"! Simply devastating. Anyway, shortly after, she posted another photo from her poolside day off, picturing her and Kendall perched on the side of the pool, laughing at their haters.