Robert Pattinson Had Some Kind Words About Kristen Stewart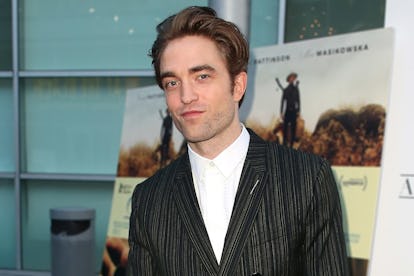 David Livingston/Getty Images
Robert Pattinson and Kristen Stewart may have had some ups and downs in their relationship, but six years later, Pattinson has some nice things to say about his former flame and Twilight costar.
In a recent interview with Entertainment Tonight about his new film, Damsel, Pattinson was asked about some of the "boss ladies" he's worked with in his career, and listed his ex-girlfriend among them. "Oh tons! I mean, I've worked with some real power houses. Definitely Mia is one of them, obviously. Kristen Scott Thomas, Uma Thurman," he said. And when asked about Kristen Stewart, he replied. "Kristen Stewart, Kristen too! Kristen Stewart as well, yeah, yeah, yeah," before adding, "Catherine Hardwicke, too. She's great."
Though their breakup was very public and very difficult ("It was incredibly painful — Ugh, f*cking kill me," Kristen has said of it), the pair seem to be back on good terms. On June 5, they reunited at a birthday party for mutual friend Lily-Rose Depp and were seen hanging out within the party and again in the car. It was also reported that they were spending time together back in February, and gossipy "sources" (take that with a grain of salt) at the time said that there was "chemistry" between the two actors at their recent meetings.
Considering how private the pair are with their personal lives, anything happening between them now is purely speculative. "When I was dating Rob, the public were the enemy — and that is no way to live," Stewart said in 2017, which sheds a bit of light on why all of their subsequent individual relationships have been kept largely out of the spotlight. And even if it isn't a love connection this time around, we can all be at peace knowing that RPatz and KStew have seemingly both moved on and are still friends.
Related: Kristen Stewart Compares Dating to Eating Grilled Cheese Sandwiches