Kylie Jenner Completes Her Evolution Into Kim Kardashian With a Denim Jumpsuit
This family loves a Canadian tuxedo.
---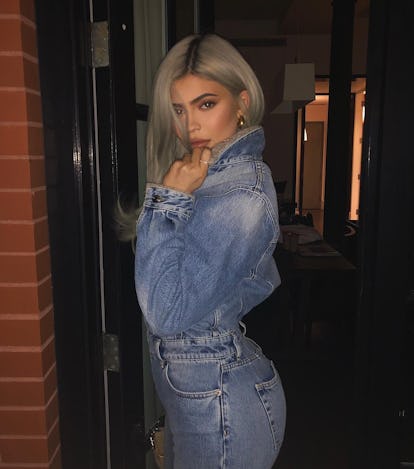 @kyliejenner
Kylie Jenner arrived in New York earlier this week, and she has since been seen at various locations around Manhattan in various painted-on trousers. There was a pair of red velveteen pants and some black lacquer drain pipes, to start; she wore them to attend the two nights of her boyfriend (and "hubby") Travis Scott's Astroworld tour at Madison Square Garden. Scott has since departed for Washington, D.C., but Jenner has remained in New York, and the latest iteration of her look of choice, seen Thursday, is actually a skintight denim jumpsuit.
Jenner wore the look, by Iro Paris, while out in SoHo on Thursday night. With a zip-up front and sherpa collar, as well as its snug silhouette, it has garnered comparisons to Britney Spears and Justin Timberlake's iconic 2001 American Music Awards ensembles of coordinating Canadian tuxedos. But what Jenner really seems to be channeling with this look is 2014 Kim Kardashian—thereby completing her metamorphosis into her elder sibling, or something like her.
Kylie Jenner has always been the Kardashian most closely modeled in Kim's image—both in terms of her penchant for waist trainers and lip fillers, and her business acumen. And now, apparently, in terms of her affinity for a head-to-toe denim look, borrowing what was once a go-to look of her sister. Kim went through a distinct Canadian tux phase, wearing a chambray button-down over skinny jeans with a blush-pink coat in 2013 (thank you, canadiantux.com); a similar look, but tucked in, in Paris with Serena Williams in 2014; and a denim bra top and skirt—kind of like a mermaid-y take on a Canadian tux—in 2015.
Jenner is also having a denim moment of her own: She and her sister Kendall Jenner released a denim line as part of the latest drop for their label, Kendall + Kylie, earlier this month. Kendall is also a fan of the all-denim look. (Who among us cannot claim they went through a denim-on-denim phase, however brief?) Plus, that family really loves their Calvins.
9 Times the Kardashians Wore Vintage Clothes, From Gucci to Versace
Kylie Jenner wore a shortened vintage Gucci dress for her 21st birthday party in Las Vegas in August 2018. The original Tom Ford for Gucci dress appeared on the spring/summer 2000 runway.

Photo by @kyliejenner.
At her family's annual holiday gathering in December 2017, Kim Kardashian wore a vintage Christian Dior dress, from the John Galliano for Dior Fall/Winter 1997 ready-to-wear collection.

@ryanseacrest/Getty Images
On a trip to Japan in March 2018, Kourtney Kardashian wore a vintage denim two-piece from the Alexander McQueen "The Eye" Spring/Summer 2000 collection.

Photo by @kourtneykardash.
Kim Kardashian wore a gold vintage Versace maxidress to the premiere of The Promise in April 2017.

Tara Ziemba
Kendall Jenner wore a vintage Chanel 1990s tweed suit during an appearance on The Tonight Show Starring Jimmy Fallon in February 2017.

Theo Wargo/Getty Images
In May 2018—just days after stunning in a vintage black Versace minidress for a 2018 Met Gala afterparty—Kim Kardashian wore another vintage gold Versace gown from the Spring 1995 collection to a dinner for Business of Fashion in New York.

Condé Nast Archives; Dimitrios Kambouris/Getty Images for the Business of Fashion
Kourtney Kardashian tossed on a vintage button-up Chanel blouse during her Italian summer getaway in 2018.

Photo by @kourtneykardash.
Kim Kardashian showed up to the 2010 White House Correspondents Dinner wearing a vintage Valentino gown that used to belong to her mother, Kris Jenner.

MANDEL NGAN/Getty Images
Kim Kardashian opted for a vintage gold (there's a pattern) Balmain dress with a matching Judith Leiber phone-shaped clutch in July 2018 at Pusha T's wedding.

Photo by @kimkardashian.