Kylie Jenner, Self-Made Businesswoman, Is Her Own Biggest Fangirl
Jenner scooped up all the copies of her recent Forbes and GQ covers at a local newsstand in Los Angeles Friday.
---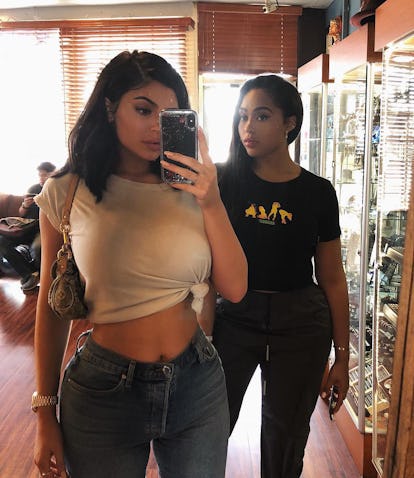 @kyliejenner
This summer, Kylie Jenner found herself on two very different magazine covers for two very different reasons. Earlier this month, she landed her first Forbes cover, which touted her as the "youngest-ever self-made billionaire"; just a week later, GQ released its own cover, featuring Jenner and her boyfriend, Travis Scott, in a spread that borrowed inspiration from an infamous Jane Birkin and Serge Gainsbourg spread.
Apparently, though she's been featured on the covers of Interview, Teen Vogue, and Paper, Jenner was especially proud of these dual achievements. On Friday, she posted a video to her Snapchat in which, perching her infant daughter, Stormi, on one hip, she scoops up all the available copies of each issue from her local newsstand. (Earlier this year, Jenner demonstrated her cultural capital when she declared Snapchat over, a simple tweet rumored to have caused the company's stocks to plummet by about $1.3 billion.) Her best friend Jordyn Woods accompanied her on this excursion, acting as camerawoman.
Kylie Jenner has a large collection of designer bags and an expansive armada of cars, so it's fun to imagine her with an entire library of magazine stories, Dewey decimal'ed, starting from small items and working up to covers celebrating her relationship and her business acumen. (Let's leave aside, for a moment, the irony that a woman who made her fortune off of lip kits—"what her half-sister Kim Kardashian West did for booty," the Forbes story reads, somewhat questionably, "Jenner has done for full lips"—has since dissolved her fillers, "valiantly" opting to return to her natural state.) Ad campaigns will be clipped and organized in laminated binders. Fashion archives preserved in glass cases. One day, Stormi will peruse the brittle pages of her mom's old magazines and begin to devise her own plan for world domination, probably complete with her own reality television vehicle.