Kylie Jenner Responds to Pranksters Who Staged Photos of Travis Scott "Cheating" on Her
A YouTuber admitted to staging the photos of a Travis Scott stand-in "cheating" on Jenner.
---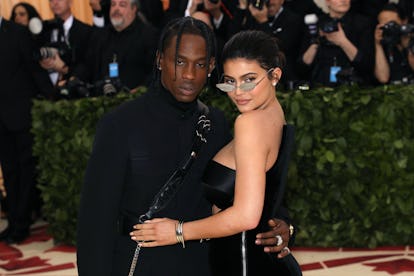 Taylor Hill/Getty Images
Earlier this week, photos surfaced that seemed to show Travis Scott, with his face hidden, making out with a girl who was definitely not Kylie Jenner. They were overlaid with the TMZ watermark that typically accompanies similarly sordid photos, and were promptly reposted by The Shade Room, all of which resulted in a solid 48 hours during which much of the Kardashian-observing world believed that Scott had, indeed, cheated on Jenner. The only problem? Those weren't TMZ's photos, and that wasn't Travis Scott.
In a video uploaded on Wednesday that stretches on for a completely unnecessary 17 minutes, YouTuber Christian Adam admitted to fabricating the entire situation, from dressing up as the rapper to "leaking" the staged photos on the Internet. Adam explained that he was deeply inspired by the recent viral prank in which YouTubers "Yes Theory" staged a photo of a Justin Bieber lookalike biting into the middle of a burrito. "I wanted to prove the point that most of the stories you see on the Internet are almost never true," Adam said in the video, apparently not understanding the difference between making people think a celebrity has a bizarre burrito-eating method and making them think someone is cheating on the mother of his child.
Scott, for his part, shut down the rumors right away. On Monday, soon after the fake photos surfaced, he responded to an Instagram user who asked whether they were real. "Trolls working hard today. I don't be on balcony wit no thots. That shit lame. Try again u trollsssss. Me and my wifey sturdy," he commented. "Only got love for my wife. No time to be wasting. Try again." He and Jenner do, in fact, seem very sturdy: Jenner and their daughter Stormi are currently accompanying Scott on his Astroworld tour, during which he and Jenner have have really escalated their confusing habit of calling each other "hubby" and "wifey" despite (as far as we know) not actually being lawfully wedded hubby and wifey.
Once the prank had been revealed, Jenner, too, took to Instagram to fire back at the trolls. "Idk if this is really a social experiment to some people but you're messing with real people, real relationships, real family. I'm happy my relationship is strong because this is getting out of hand. the internet scares me sometimes for real," she wrote on Wednesday. Older sisters Kim and Khloé Kardashian also stood up for Jenner and Scott's relationship in a pair of tweets. "This is absolutely disgusting that you would find this funny to mess with Travis & Kylie who just started a family together," Kim wrote, while Khloé added, "This person should be so ashamed of themselves! What filth."
Related: Kylie Jenner Made Her First Onstage Appearance at "Hubby" Travis Scott's Astroworld Tour