Lady Gaga and Bradley Cooper's First Meeting Was Exactly Like the A Star Is Born Trailer
Cooper said he felt like he was "levitating" when he first saw Gaga.
---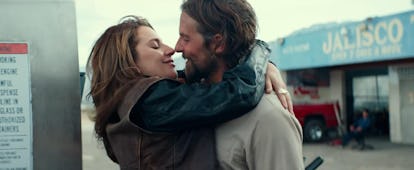 Courtesy of Warner Bros. Pictures
It's not just all of the Oscar buzz from critics that's made Lady Gaga and Bradley Cooper's remake of the Hollywood classic A Star Is Born reach almost unprecedented levels of hype. With just under a month to go until the movie's release date, there's also been a notable contribution from the pair's newfound penchant for fawning over each other in public, regaling seemingly anyone who will listen with stories like how Cooper, who directed the film, wiped the makeup off of Gaga's face before her first screen test. Now, thanks to Gaga's new Vogue cover, there are even more details about their initial bond over spaghetti and their shared Italian roots—and it looks like their first encounter was the same meet-cute as in the film.
In case you haven't seen the honestly perfect trailer, it shows Cooper's character, Jackson Maine, a jaded country star with a drinking problem, becoming completely transfixed by Gaga's character, Ally, upon catching her performance in a burlesque club. He prods her about why she doesn't sing the songs she writes, before informing her, to her utter amazement, that he thinks she's beautiful. From there, we see the pair fall hopelessly in love, as illustrated by over-the-top scenes like Cooper's character calling over to Gaga's from his car after they've already said goodbye, because he "just wanted to take another look at [her.]"
It's all classic Hollywood camp—which actually turns out to have been the case in real life too. In 2016, shortly after he'd signed up to play Maine and tell his own version of the story, Cooper just so happened to head to a cancer benefit in Sean Parker's backyard in L.A. and catch Gaga performing, at which point his life apparently changed. "She had her hair slicked back, and she sang 'La Vie en Rose,' and I was just…levitating. It shot like a diamond through my brain. I loved the way she moved, the sound of her voice," he told Vogue, putting into words exactly what seems to be going through Jackson's head upon his initial encounter with Ally in the trailer. (Minus the club's hot pink glow.)
Like Jackson with Ally, Cooper was immediately smitten with Gaga. He drove to her house in Malibu the very next day, having made a call to her agent. Cooper has already been loud and proud about the fact that he immediately "fell in love with [Gaga's] face and eyes," but it turns out there was even more to it than that. "She came down the stairs and we went out to her patio and I saw her eyes, and honestly, it clicked and I went, Wow," Cooper told Vogue, adding that he pretty much offered her on the part on the spot. As for what was going on through Gaga's very beautiful head? "The second that I saw him, I was like, Have I known you my whole life? It was an instant connection, instant understanding of one another."
The real-life turn of events is arguably even more romantic than those seen in the trailer; they next headed to Gaga's kitchen, where she cooked them up a meal of spaghetti and meatballs. (Would it be surprising at this point if they Lady and the Tramp'd it?) At a certain point, though, Cooper remembered himself as a director and told her, "The truth is, it's only going to work if we can sing together," at which point Gaga printed out the sheet music for the classic folk song "Midnight Special" and took a seat at the piano.
Gaga is, of course, already a real-life star, so at this point their roles reversed, with Gaga delivering a line that echoes Cooper's in the trailer: "She said, 'Has anyone ever heard you sing before?' and I said no," Cooper recalled of the moment when he started singing and Gaga stopped playing the piano to tell him, "Oh, my God, Bradley. You have a tremendous voice." Since then, when it comes to Cooper, Gaga has gone into full-on manager mode: "He sings from his gut, from the nectar! I knew instantly: This guy could play a rock star. And I don't think there are a lot of people in Hollywood who can. That was the moment I knew this film could be something truly special," she added.
Their bond fully established, Cooper went on to weave in other aspects of Gaga's real life into the film: "We talked a lot about where she started on the Lower East Side, and she told me about this drag bar where she used to hang, and I thought, Oh, this is just ripe for the story," he continued, backed up by Gaga: "This is what I think makes the film so successful: that it was so real. And I've lived it, so I can testify to that."
Alas, the natural progression—real-life romance—will have to be left for the realm of fan fic. Cooper would also apparently often tell Gaga, "This is a movie about what would have happened if you didn't make it until you were 31 instead of 21"—not, you know, that this is a movie about what would have happened if they had met when she was 21, and he hadn't met and had a daughter with his partner and rumored fiancée, Irina Shayk.
Related: Lady Gaga and Bradley Cooper Have So Much in Common, Are So Nice to Each Other
Lady Gaga's Style Evolution, From a Meat Dress to Custom Versace
A brunette Gaga performing at Lollapalooza, in a homemade disco bra.That DIY aesthetic was only a small taste of what was to come.

Getty Images
One of the earliest incarnations of the Lady Gaga persona: snood, sunglasses, David Bowie makeup, and platinum blonde hair.

Getty Images
Lady Gaga and her "hair bow" debut on Good Day New York in 2008. Most of her costumes at this time where largely handmade.

Getty Images
Lady Gaga at a Fashion Week event in 2008, complete with towering shoulder pads and signature snood.

Getty Images
Gaga at a concert event in Germany, wearing one of her crystal stalagmite encrusted dresses.

Getty Images
Sporting rainbow colored locks, leopard briefs, and thigh-high boots at a Tokyo airport.

Getty Images
Gaga on the VMAs red carpet, wearing the first of one of many VMA looks that will go down in fashion history.

Getty Images
Meeting the Queen of England in Edwardian-themed red latex gown and crystal encrusted eye makeup.

Getty Images
At the 52nd Grammy Awards wearing custom Armani Prive and a matching, hand-held sculpture.

Getty Images
Leaving her concert at the O2 Arena in Germany at the height of "Bad Romance" fever.

Getty Images
Wearing her infamous meat dress at the MTV Video Music Awards.

Frederick M. Brown/Getty Images
At the VMAs in an Alexander McQueen look, wearing the infamous Armadillo platform heels.

Getty Images
Leaving dinner in Paris dedecked in diamonds and blush pink silk.

Getty Images
Accepting the Grammy award for best pop vocal album wearing archive Mugler at the beginning of her "Born This Way" era.

Getty Images
A chic, fully monochromatic look ("teal blonde" hair included) at Narita Airport in Tokyo.

Getty Images
At the CFDA awards sporting a teal bob. She won the Fashion Icon Award that evening.

Getty Images
A radiant brunette Lady Gaga at Harrods for the launch of her fragrance, Fame.

Getty Images
Lady Gaga wearing archive Versace with the designer in Milan.

Getty Images
Fairytale princess Gaga in an Alexander McQueen gown.

Getty Images
Channeling a rave-disco incarnation of Botticelli's Venus at the VMAs.

Getty Images
Lady "Godiva" Gaga arriving on the American Music Awards red carpet atop a mechanical horse and wearing Atelier Versace.

Getty Images
At an event in Japan in promotion of her album Artpop.

Getty Images
A street style moment in London complete with "Botticelli babe" waves and prismatic eyeglasses.

Getty Images
Sporting ultra long white-blond locks and a pink fur coat leaving her apartment in New York.

Getty Images
Wearing a lavender Atelier Versace gown at the 86th Annual Academy Awards.

Getty Images
Wearing a star-spangled, custom white Valentino gown with diamante eyebrows to match at the Kennedy Center Honors.

Getty Images
Entering the era of polished, elegant, and jazz Gaga for her collaboration album with Tony Bennett.

Getty Images
Wearing a custom, glittering Azzedine Alaia gown to the 87th Annual Academy Awards.

Getty Images
Lady Gaga at the Songwriter's Hall of Fame induction, channeling John Lennon by way of Alexander Wang.

Getty Images
Full Bowie-glam in a custom Marc Jacobs look for the 58th Grammy Awards, where Gaga performed a tribute to the late performer.

Getty Images