Met Gala 2018: Bradley Cooper and Irina Shayk Made a Rare Joint Appearance on the Red Carpet
This is the first time they've walked the Met Gala red carpet together.
---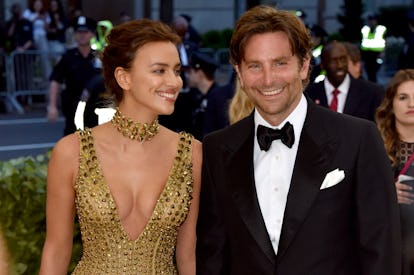 John Shearer/Getty Images
If there's one thing that can tempt otherwise low-key couples to show up together, it's the Met Gala. During Monday night's Catholicism-themed gathering, the red carpet saw not one, not two, but four couples who are rumored to be dating. There was Lili Reinhart and Cole Sprouse, Elon Musk and Grimes (!), Hailey Baldwin and Shawn Mendes, and Katharine McPhee and David Foster. And then there are the couples who have confirmed their relationships, but prefer to stay out of the spotlight, like Bradley Cooper and Irina Shayk, who have been publicly dating since 2015. Although the pair also welcomed a child last year, they have only been photographed together only a handful of times.
As People reported, this marks the first time they've walked the Met Gala's red carpet together. According to the outlet, they both attended 2016's tech-themed Met Gala, but refrained from walking together: Cooper appeared with director David O. Russell, while Shayk came by herself. This year, the couple showed up looking subtly on-theme. While Cooper opted for a Tom Ford tux, according to Us Weekly, Shayk dazzled in a gold Atelier Versace gown with a crystal-studded bodice, a train of feather-like pleats, and a matching gold choker. The magazine also noted a "massive ring" on the model's left ring finger, adding that engagement rumors had been floating around since she debuted the same emerald-diamond ring in December 2016.
Neither Cooper nor Shayk have publicly commented on their maybe-engagement, but that's probably because it would be off-brand for the extremely chill couple. Met Gala aside, the pair are usually photographed doing more casual hangouts, like hanging out at the beach with their daughter, Lea, chilling with Laura Dern at Sean Penn's book launch, or getting a well-rounded tan on Diane Von Furstenberg's yacht.
Related: Met Gala 2018: See What Celebrities Wore on the Red Carpet
Met Gala 2018: See What Celebrities Wore on the Red Carpet
Rihanna at the 2018 Met Gala. Photograph by Benedict Evans for W Magazine.

Benedict Evans
Cardi B at the 2018 Met Gala. Photograph by Benedict Evans for W Magazine.

Benedict Evans
Lily Collins at the 2018 Met Gala. Photograph by Benedict Evans for W Magazine.

Benedict Evans
Donald Glover at the 2018 Met Gala. Photograph by Benedict Evans for W Magazine.

Benedict Evans
Selena Gomez at the 2018 Met Gala. Photograph by Benedict Evans for W Magazine.

Benedict Evans
Katherine Langford at the 2018 Met Gala. Photograph by Benedict Evans for W Magazine.

Benedict Evans
Jasmine Sanders at the 2018 Met Gala. Photograph by Benedict Evans for W Magazine.

Benedict Evans
Rosie Huntington Whiteley at the 2018 Met Gala. Photograph by Benedict Evans for W Magazine.

Benedict Evans
Kate Upton at the 2018 Met Gala. Photograph by Benedict Evans for W Magazine.

Benedict Evans
Winnie Harlow at the 2018 Met Gala. Photograph by Benedict Evans for W Magazine.

Benedict Evans
Alek Wek at the 2018 Met Gala. Photograph by Benedict Evans for W Magazine.

Benedict Evans
Zendaya at the 2018 Met Gala. Photograph by Benedict Evans for W Magazine.

Benedict Evans
Priyanka Chopra at the 2018 Met Gala. Photograph by Benedict Evans for W Magazine.

Benedict Evans
Migos at the 2018 Met Gala. Photograph by Benedict Evans for W Magazine.

Benedict Evans
George and Amal Clooney at the 2018 Met Gala. Photograph by Benedict Evans for W Magazine.

Benedict Evans
Lena Waithe at the 2018 Met Gala. Photograph by Benedict Evans for W Magazine.

Benedict Evans
Ariana Grande at the 2018 Met Gala. Photograph by Benedict Evans for W Magazine.

Benedict Evans
Kim Kardashian at the 2018 Met Gala. Photograph by Benedict Evans for W Magazine.

Benedict Evans
Travis Scott and Kylie Jenner at the 2018 Met Gala. Photograph by Benedict Evans for W Magazine.

Benedict Evans
Blake Lively at the 2018 Met Gala. Photograph by Benedict Evans for W Magazine.

Benedict Evans
Bella Hadid at the 2018 Met Gala. Photograph by Benedict Evans for W Magazine.

Benedict Evans
SZA at the 2018 Met Gala. Photograph by Benedict Evans for W Magazine.

Benedict Evans
Kendall Jenner at the 2018 Met Gala. Photograph by Benedict Evans for W Magazine.

Benedict Evans
Janelle Monae at the 2018 Met Gala. Photograph by Benedict Evans for W Magazine.

Benedict Evans
Emily Ratajkowski at the 2018 Met Gala. Photograph by Benedict Evans for W Magazine.

Benedict Evans
Daniel Kaluuya at the 2018 Met Gala. Photograph by Benedict Evans for W Magazine.

Benedict Evans
Gigi Hadid at the 2018 Met Gala. Photograph by Benedict Evans for W Magazine.

Benedict Evans
Katy Perry at the 2018 Met Gala. Photograph by Benedict Evans for W Magazine.

Benedict Evans
Paris Jackson at the 2018 Met Gala. Photograph by Benedict Evans for W Magazine.

Benedict Evans
Madonne and Nicki Minaj at the 2018 Met Gala. Photograph by Benedict Evans for W Magazine.

Benedict Evans