Lady Gaga "Felt Bad" About All Those Bradley Cooper Rumors
And they're probably not getting together anytime soon.
---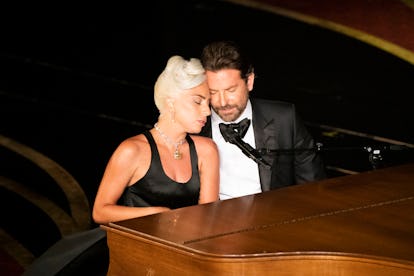 Ed Herrera/Getty Images
The electricity between Lady Gaga and Bradley Cooper was so strong this past awards season that you could feel it in your bones. But while much of the world—and especially the Internet—might think the pair are destined to be together romantically, they have other thoughts. At least Gaga does, in the wake of Cooper's split from his partner of four years Irina Shayk, with whom he shares a 2-year-old daughter, Lea De Seine.
According to the latest update, which comes as speculation is at an all-time high that Cooper and Gaga might not have been playing characters after all when they promoted A Star Is Born, Gaga is simply not interested in dating Cooper. The pop star turned actress is still reeling from all of the rumors herself, and "felt bad" when her name was dragged into news about Cooper and Shayk's breakup, according to a source at Us Weekly. The source added that Gaga "isn't going to get together" with Cooper now that they're both single. (Gaga broke off her engagement to the CAA talent agent Christian Carino in March, allegedly because of his "jealous" and "controlling" ways.)
As for Cooper's breakup, more details have surfaced that seem to confirm that, while nothing was officially happening between him and Gaga during A Star Is Born, all of the talk about his relationship with Gaga put a lot of pressure on his partnership with Shayk. Of course, the fact that he was so busy with the filming and promoting didn't help either, as a separate source confirmed. "The movie had a major impact on Bradley and Irina's relationship," the source said. "Even though there was nothing romantic between Bradley and Gaga, the noise was difficult for Irina to deal with."
These days, Shayk has been making some noise on her own with post-breakup Instagrams that show she's still living her best life. Despite the hardship of her breakup, she and Cooper have been making an extra effort to stay friendly as well; a different source confirmed to People that she, Cooper, and their daughter are still acting like a united family. "For Lea's sake, they keep spending time together as a family," the source told People. "Bradley is a great dad. He has always been very involved with his daughter."
So while Gaga and Cooper might not be getting together anytime soon, if ever, there's always that A Star Is Born revival project that might guarantee another reunion—and another look at…them—soon.