Presidents Bush and Obama Trolling Each Other on Twitter — Because of Lady Gaga
She's on the edge of political glory.
---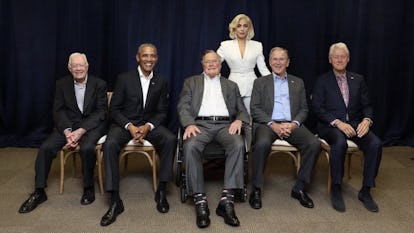 ladygaga/Twitter
Because it's 2017, words have no meaning, everything is weird, up is down and down is left, East is February and West is Kanye, and America exists in the riddle dimension. So fittingly, former Presidents George H.W. Bush and Barack Obama are tweeting at each other about Lady Gaga.
In case you missed it, Lady Gaga and all five living former presidents—Jimmy Carter, George H.W. Bush, Bill Clinton, George W. Bush, and Barack Obama—appeared on the same stage at Texas A&M University on Saturday, October 21, for the Deep From the Heart: The One America Appeal concert. It's aim was to raise money and awareness for communities hurt by the recent deadly hurricane season. Gaga's appearance was a bit of a surprise, since she wasn't billed as being on the lineup, but she brought the house down with performances of songs like "You and I" and "Edge of Glory."
A backstage photo from the event shared by Gaga and depicting her standing behind all five former leaders recently went viral, and now two of our former presidents, the first Bush and Obama, are reminiscing about the night on Twitter.
"Not sure abt 39, @BillClinton, 43 and @BarackObama, but I would have sung w @ladygaga if asked. Thanks to all for supporting @AmericaAppeal," wrote Bush. Obama then quote-tweeted with the response, "I'll let you and @ladygaga handle the singing, and we'll handle the donations. There's still time to give: http://oneamericaappeal.org."
Gaga responded—tagging only Obama, and none of the other POTUSes—with, "❤️you so much for doing all this for our country and showing great leadership to the world!"
Is this the start of not just a friendship, but a collaboration? Will Gaga take 41 up on his offer to jam together? Will they convince Grammy-winning Obama to guest star on her next album? Might Bill Clinton be interested in backing them on his tenor sax? Anything is possible, literally. The world makes no sense anymore.
Related: Lady Gaga Showed Off a Gift From Beyoncé That's Helping Her Through a Painful Day
Giovanna Battaglia: My Visit to President Barack Obama's White House
"I was invited to a state dinner at the White House honoring the Italian prime minister, Matteo Renzi. It was a lifetime-so-far achievement! I chose an Armani Privé dress for the occasion, because for many Americans Giorgio Armani is the most iconic Italian designer. On the way to cocktails, I passed the Vermeil Room—and the famous portrait of Jacqueline Kennedy Onassis. I had to pose in front of it to commemorate the moment."

Courtesy of Giovanna Battaglia Engelbert
"I am so proud to have this program as a memento of the state dinner. Barack Obama had just been elected when I moved to New York—he will always be my president."

Courtesy of Giovanna Battaglia Engelbert
"I wore my vintage Courrèges suit when I was a guest at Buckingham Palace, and yes, I wore it again when my husband, Oscar, and I went to the White House for the welcoming ceremony the morning of the state dinner. Who knew it would come in handy twice?"

Courtesy of Giovanna Battaglia Engelbert
"While in Washington, D.C., I checked out the Hirshhorn Museum. How fun is this piece, Woman in E, by the Icelandic artist Ragnar Kjartansson? I wanted to hang out and watch the performer go round and round, playing the same guitar 
note over and over again."
"Staring at the pendulum of this Mark di Suvero sculpture, The Cave, left me in a hypnotic state."

Courtesy of Giovanna Battaglia Engelbert
Also on view at the Hirshhorn was one of my favorite works, Venus of the Rags, by Michelangelo Pistoletto. It's basically what I look like when I'm editing my closet or packing."

Courtesy of Giovanna Battaglia Engelbert
"Julio Santo Domingo and Nieves Zuberbühler got married on Halloween weekend. So of course, the decor for the celebration—like this head, which reminds me of a Giuseppe Arcimboldo painting—was not exactly typical for a wedding."

Courtesy of Giovanna Battaglia Engelbert
"When my good friend Pietro Quaglia opened an all-pink restaurant, Pietro Nolita, in downtown Manhattan, he had these T-shirts made."

REX/Shutterstock
Courtesy of Giovanna Battaglia Engelbert
"What do you wear to a black-tie Halloween wedding? I went as Cher from the 1986 Oscars, and Oscar was my statuette."

Courtesy of Giovanna Battaglia Engelbert