Lauren Hutton Just Became Vogue's Oldest Cover Star Ever at 73
She nabbed all three covers of Vogue Italia's new issue dedicated to women over 60.
---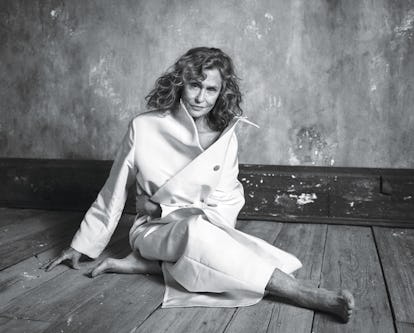 Photographs by Mario Sorrenti, Styled by George Cortina; Hair by Akki at Art Partner; Makeup by Francelle for Lovecraft Beauty at Art + Commerce; Manicures by Honey for Marc Jacobs Beauty at Exposure NY; Set design by Phillip Haemmerle. Produced by Kyd Drake at North Six. Production Manager: Danica Solomon. On-site producer: Steve Sutton. Printing by Arc Lab LTD. Lighting Technician: Lars Beaulieu. Digital Technician: Johnny Vicari. Photography Assistants: Kotaro Kawashima, Javier Villegas. Fashion Assistants: Steven La Fuente, Alex Paul, Elyse Lightner. special thanks to Pier 59 Studios and Highline Stages
Since becoming one of the modeling's biggest names in the '70s, Lauren Hutton has racked up a record 40 covers of Vogue altogether, including 27 American editions. And now, at the ripe age of 73 years and 11 months old, Hutton is adding another to that illustrious list: She's the new star of not just one, but all three covers of Vogue Italia's new "Timeless Issue," which is the publication's first ever issue dedicated to women over 60.
It is, after all, a new era for Vogue Italia, as the publication proved last month at Milan Fashion Week with a star-studded party thrown by its new editor Emanuele Farneti, who took over from the late great Franca Sozzani after the fashion legend passed away late last year. Clearly, though, Farneti is holding onto Sozzani's legacy of daring, boundary-breaking imagery, not to mention eye for talent, as Hutton could hardly be a better fit.
Shortly after she began modeling, Hutton revolutionized the industry as the first model to demand a contract and therefore better pay for women. Now, decades after her heyday, Hutton has repeatedly made her rightful comeback over the last year alongside those who've reaped her benefit, walking the runway at Milan Fashion Week hand in hand with Gigi Hadid, and taking over from Kendall Jenner, whom she's recently done editorials with, as Calvin Klein's resident underwear model.
Now that Hutton's once again a cover star, she's officially beat out Tina Turner, who covered Germany's Vogue at 73 years old and four months in 2013, as the oldest woman to cover an edition of Vogue—not that Hutton seems to be looking to compete when it comes to issues like aging. In fact, of all her Vogue covers, she said that this one "is the most important," because it's the one that's "made [her] feel the most useful."
"This is a cover that can change society," Hutton continued, "because it shows a woman who is vibrant, attractive, who still laughs, and who for the first time is a woman my age."
Steven Klein, who shot the covers, took care to capture Hutton in a bra as a message to our "ageist society" that "you can be sexy at 70, too." Indeed, there are those even older than Hutton inside the issue, like 74-year-old Benedetta Barzini, who got her own Vogue Italia cover back in the '60s. Models like Iman, 62, and newfound CoverGirl Maye Musk, 69, can also be spotted alongside artists like Marina Abramović, 70, and Lynda Benglis, 75, as well as Instagram stars like Baddiewinkle, who is 89 and has over three million followers.
Hutton will no doubt be pleased with the results. She first realized the lack of any women who looked over 30 in magazines when she was 47, at which point she also took manners into her own hands, calling up every editor she knew "from every magazine all over the Western world," she told W earlier this year. These days, her message to them seems to be the same as it was back then: "'You know, we're at this nexus in history where women have got to be allowed to represent.'"
21 Glamorous Photos That Prove Lauren Hutton Was the Original It-Girl
Lauren Hutton poses in a sleeveless dress in a pleated fabric by Mary McFadden, 1974

Getty Images
Lauren Hutton models herringbone overalls and a matching cape from Victor Joris' Cuddlecoat collection, with wool socks and a helmet by Emme, circa 1975.

Getty Images
Lauren Hutton covers up while doing a photoshoot in a London studio, 1978.

Getty Images
Lauren Hutton pairs a fedora with a glass of Champagne.

Getty Images
Lauren Hutton shows off her legs in a mini-gold dress.

Getty Images
Lauren Hutton poses with a beer in hand following a taping of Saturday Night Live.

Getty Images
Lauren Hutton flashes her famous grin while wearing a gold blazer.

Getty Images
Lauren Hutton strikes a pose wearing a tailored suit and matching hat.

Getty Images
Lauren Hutton shows her Yankees pride in a team cap.

Getty Images
Lauren Hutton covers up, stifling a laugh, while debuting a brand new pixie cut.

Getty Images
Lauren Hutton appears stunned by the camera lens.

Getty Images
Ricard Gere and Lauren Hutton attend the National Board of Review of Motion Pictures.

Getty Images
Lauren Hutton during 11th Annual Diana Vreeland Costume Exhibition at The Metropolitan Museum of Art in New York City, New York.

Getty Images
Lauren Hutton before her debut performance in "Extremities" at Coronet Theater in Los Angeles, California.

Getty Images
Lauren Hutton during 52nd Annual Academy Awards at Dorothy Chandler Pavilion in Los Angeles, California.

Getty Images
Lauren Hutton during Italian Designers' Gala at Rainbow Room in New York City, New York.

Getty Images
Lauren Hutton arrives to the 47th Academy Awards at Dorothy Chandler Pavilion in Los Angeles,California.

Getty Images
Lauren Hutton at gallery opening for Peter Beard's photos of Africa circa 1977 in New York City.

Getty Images
Lauren Hutton grabs a glass of Champagne in a sparkly dress at a fashion event.

Getty Images
Lauren Hutton opts to go behind the lens, a change for the model.

Getty Images
Lauren Hutton keeps it casual in a pair of track pants and white Converse.

Getty Images
Related: Lauren Hutton Recalls the Moment She Transformed the Modeling Industry By Demanding Better Pay for Women
Kate Moss on How Photographers "Always Ask" Her to Take Her Clothes Off: