Is Leonardo DiCaprio Finally Ready to Settle Down With Camila Morrone?
There are rumors of an engagement in the air, or at least the tabloids.
---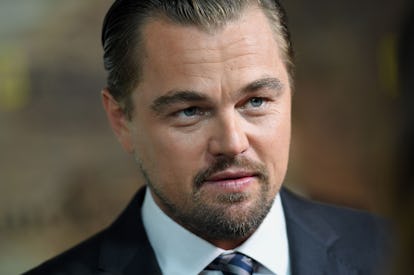 ANGELA WEISS/AFP/Getty Images
Christmas is coming, and with it engagement season. The holiday and the eve of it are the most popular times to pop the question, and Leonardo DiCaprio may be contributing to that this winter. If the rumors are true, anyway. He's only been with his girlfriend, Camila Morrone, for about a year, but that is quite a long time in DiCaprio years.
DiCaprio, 44, and the 21-year-old model were first photographed together back in December 18, 2017, and, according to a "source close to the pair," they may be celebrating their one-year anniversary with a ring. "Everyone is saying that marriage could be soon for them," the source told Us Weekly of the "very serious" couple. It would truly be shocking if DiCaprio did propose, considering his penchant for short-lived relationships with models.
His longest relationship thus far was with the model Bar Refaeli, whom he dated from 2005 to 2011. His most recent long-term relationship, outside of Morrone, was with the model Nina Agdal, whom DiCaprio broke up with in May 2017. At the time, a source close to the couple told People that "Leo thought Nina was a super cool girl. It almost seemed different this time because he was way more affectionate and public with her than he normally is, but his friends knew it wouldn't last…He's not ready to settle down and just isn't in the mindset to get married or have kids."
But apparently that has changed. Back in August, another source told Us Weekly that DiCaprio is "ready to have kids," and that he and Morrone have even "talked about getting engaged." At the very least, it's evident that Us Weekly really likes the narrative.
This isn't the first time rumors of DiCaprio finally deciding to settle down have popped up, and it likely won't be the last. Still, anyone who has looked at photos of the pair together can see that he does seem to be getting serious with Morrone. He hasn't been photographed with anyone else during their relationship, and he even took Morrone on one of his signature summer romps to Italy. Likewise, it's noteworthy that Morrone, an active Instagram user, has respected DiCaprio's privacy throughout their relationship, without posting any photos of him. While some normies might take offense to not going Instagram official with their loved one, in the world of celebrity relationships, that's a keeper.
A Photographic Guide To Everyone Leonardo DiCaprio Has Publicly Dated
Leonardo DiCaprio dated model Kristen Zang for a year back in the '90s, where she acted as his date to the premiere of Romeo & Juiet.

Getty
Perhaps DiCaprio's most famously ex is Gisele Bündchen, whom he dated from 1999 to 2005.

Getty
The pair were serious for nearly six years, often spotted walking their dogs together.

Getty
The pair also often took in sporting events, a popular past time for DiCaprio and his girlfriends.

Getty
After splitting with Bündchen, DiCaprio moved on to Isreali model, Bar Rafaeli. The couple made a rare high profile appearance together at Berlin's Annual Cinema For Peace Gala in 2010.

Getty
The couple often took in basketball games, sitting courtside, of course, making for a few rare moments of DiCaprio allowing himself to be photographed with a girlfriend. Here, they watch the Lakers in 2010.

Getty
The pair dated for six years—the exact duration of his relationship with Bundchen—before splitting in 2011.

Getty
And again, the same year, DiCaprio shielded by a hat, as has become his fashion go-to.

Getty
In 2014, DiCaprio was spotted at the amfAR Gala in Cannes with his new lady, Toni Garrn, whom he dated for just over a year.

Getty
Before eventually getting together with Nina Agdal—whom he was never photographed with at a high profile event like a few of his other girlfriends—the actor dated a model Kelly Rohrbach in 2015, during which the pair were spotted together at the US Open. Agdal would go on to star in this weekend's Baywatch, while DiCaprio would continue to date models.

Getty