Leonardo DiCaprio's Birthday Party Was As A-List As You'd Expect
But are we really to believe there were zero models in attendance?
---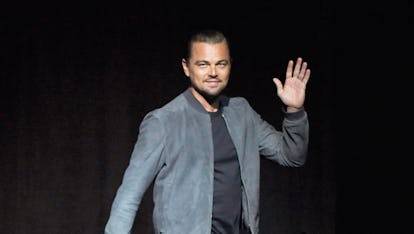 Ethan Miller, Getty
Oscar-winning actor Leonardo DiCaprio turns 44 today, November 11, but he got the party started early on Friday night with a bash as A-list as you'd expect from the ranking chairman of the Pussy Posse. According to People, the star celebrated his birthday at Spring Place, the private club in L.A. founded by Francesco Costa.
The guest list, according to the article, included Jay-Z and Beyoncé, who "sat near the dance floor as their hits played." The same source revealed that "Larry David held court with Sacha Baron Cohen on the outside patio, while Tony Romo was seen joking and dancing with Chace Crawford" and that "Jennifer Aniston arrived with two gal pals and later linked up with Gwyneth Paltrow, who attended the glamorous bash with her new husband, Brad Falchuk."
The Revenant star DiCaprio himself was reportedly drinking and laughing with friends inside, so let's speculate wildly on who those friends might be, shall we? His ride-or-dies Tobey Maguire and Harmony Korine? His Once Upon a Time in Hollywood costar Brad Pitt? (Probably not, if Aniston was there.) His buddy Jonah Hill? The latest crop of Victoria's Secret models, the youngest of whom had not been born when Titanic hit theaters? And did he spend any portion of the night texting Kate Winslet? We can only hope.
Related: Leonardo DiCaprio and Martin Scorsese Are Continuing Their Bromance With Killers of the Flower Moon
A Photographic Guide To Everyone Leonardo DiCaprio Has Publicly Dated
Leonardo DiCaprio dated model Kristen Zang for a year back in the '90s, where she acted as his date to the premiere of Romeo & Juiet.

Getty
Perhaps DiCaprio's most famously ex is Gisele Bündchen, whom he dated from 1999 to 2005.

Getty
The pair were serious for nearly six years, often spotted walking their dogs together.

Getty
The pair also often took in sporting events, a popular past time for DiCaprio and his girlfriends.

Getty
After splitting with Bündchen, DiCaprio moved on to Isreali model, Bar Rafaeli. The couple made a rare high profile appearance together at Berlin's Annual Cinema For Peace Gala in 2010.

Getty
The couple often took in basketball games, sitting courtside, of course, making for a few rare moments of DiCaprio allowing himself to be photographed with a girlfriend. Here, they watch the Lakers in 2010.

Getty
The pair dated for six years—the exact duration of his relationship with Bundchen—before splitting in 2011.

Getty
And again, the same year, DiCaprio shielded by a hat, as has become his fashion go-to.

Getty
In 2014, DiCaprio was spotted at the amfAR Gala in Cannes with his new lady, Toni Garrn, whom he dated for just over a year.

Getty
Before eventually getting together with Nina Agdal—whom he was never photographed with at a high profile event like a few of his other girlfriends—the actor dated a model Kelly Rohrbach in 2015, during which the pair were spotted together at the US Open. Agdal would go on to star in this weekend's Baywatch, while DiCaprio would continue to date models.

Getty