Lili Reinhart Is Still Battling the "Utterly Ridiculous" Standards of Beauty in Hollywood
She discussed "ridiculous" beauty standards at Glamour's 2018 Women of the Year Summit.
---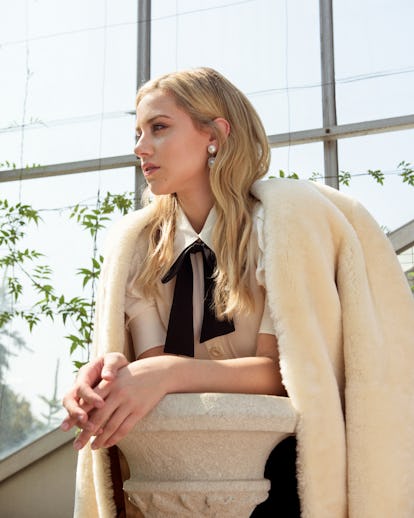 Lili Reinhart wears a Chloé jacket and shirt; Boss pants; Heidi Carey earrings. Photo by Daria Kobeyashi Ritch at Jones Management for W Magazine. Styled by Caroline Grosso.
Lili Reinhart is continuing her crusade to teach young women that society's pressures to live up to "fake standards" of beauty should be disregarded by all. At Glamour's 2018 Women of the Year Summit, on Sunday, the 22-year-old actress addressed the audience with a wise-beyond-her-years message about the impossibility of living up to the ideals and standards of beauty that shackle young women.
Though Reinhart is vigilant about keeping her private life (including her relationship with her Riverdale costar Cole Sprouse) as far from the public eye as possible, she said she recently found that seeing paparazzi photos of herself was causing her to be "hyper-aware" of her body in ways she had not been before. "I could see the difference in my shape in photos and wondered if anyone else was noticing. I felt this strange, constant struggle of having to live up to the expectation of the appearance that I had already established to the world," she said at the summit.
"For the past year…I've been quietly trying to navigate my fluctuating weight and I've faced criticism in the past for talking about my body image. People told me that I didn't have the right to talk about being self-conscious about my body because I was skinny," Reinhart admitted. "And I understand how it seems inappropriate for someone who is average size to talk about problems with weight gain. But, my point is, I didn't think anything was wrong with my body until I was in an industry that rewards and praises people for having a smaller waist than I will ever have. It felt unfair to think that I would never have an industry perfect body, just because I wasn't genetically built a certain way. I was exposed to young women, smaller than I was, telling me that they needed to lose weight."
Reinhart has been open in the past about her struggles with body dysmorphia, and has become something of an expert at clapping back at body shamers. She went on to express her concern for future generations, particularly her own children, and how they may be affected by the stress of trying to achieve a so-called perfect body. "Will my daughter be self-conscious about gaining weight? Will she feel the need to explain her body or justify it to anyone as it changes? Will she feel that same need that I do now—to apologize to her peers and say, 'My body doesn't usually look like this,' or 'I'm just a little heavier than usual right now?'" Reinhart asked the audience at the summit. "How utterly ridiculous is it that we even think about explaining the nature of our bodies to other people?"
She ended on a celebratory note, however, urging listeners to remember that "this perfect world you see online or in magazines…in movies and television…are presented to you through many different filters." Reinhart also offered up a request for the women in the audience, asking them to "find a healthy balance between expressing the natural, vulnerable side of yourself with the glamorous, contoured side." "Do not set impossible goals of meeting those fake standards," she said. "Embracing your natural beauty does not exclude anyone. There is no fine print. You can be naturally beautiful with acne or scars, cellulite or curves."
She concluded, "So, let's celebrate each other, and ourselves, as we are, as we will be, and as we were meant to be. Unique. Imperfect. Beautiful. And so incredibly powerful."
Related: Lili Reinhart on Her Relationship With Cole Sprouse: "You Don't Need to Know"