The Riverdale Cast Have All Become Experts at Social Media Clapbacks
They've all become experts at putting trolls in their place.
---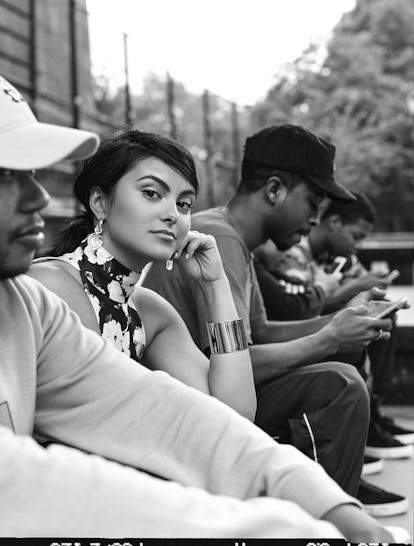 Does any TV cast clap back at trolls more than the stars of Riverdale? Whether the haters are coming for Betty or Veronica, the cast seems to attract their fair share of bullying from online trolls. Which just gives them more opportunities to gracefully put a hater in his or her place when the situation calls for it.
Lili Reinhart, who plays Betty on Riverdale, often receives the brunt of the online harassment from people who tend to comment on her relationship with her costar Cole Sprouse. In September, one Twitter user posted a screenshot of her DMs, in which she shared some unsavory comments about the actress, calling her a "cringey bitch," and saying, "She probably tells him to touch her butt and buy her pizza," tagging her in the exchange. Reinhart quoted the tweet and responded, "No no…I tell him to touch me everywhere and then we eat Chinese food. Get your facts straight, Emily."
But the latest to go head-to-head with an online troll was Camila Mendes, who reportedly put a hater in their place on Instagram in November. Per Teen Vogue, after a troll posted a paparazzi shot of Mendes with her boyfriend and costar, Charles Melton, and captioned it, "Sorry but I have to post it. Cami looked happier with Victor," the actress commented on the post with, "I feel silly responding to this but I also feel the impulse to tell you that you're wrong. I'm happier than I've ever been in my life."
"It's absurd to me that you call yourself a fan, yet your entire page is dedicated to disrespecting my relationship and my boyfriend, both of which you clearly know nothing about. Charles and I were on our way to shoot a self tape, which he helped me with all day," Mendes went on, defending Melton. "Literally stopped everything he was doing to help me tape the perfect audition. I was running the lines in my head without even knowing there was a pap taking photos of us."
Roughly a week before that, Reinhart had to step in on Twitter once again when trolls harassed her costar Shannon Purser because Purser's character, Ethel, kissed Jughead (played by Reinhart's real-life boyfriend, Sprouse) on the show. "Shannon is my friend, and it is embarrassing that people felt the need to attack her personally for something that happened on a SHOW. Written by WRITERS. You are not a fan of mine if you treat my friend like this," Reinhart wrote. Purser herself reportedly told Popbuzz, "I just wonder what these people will think in like 10 years when they remember their Twitter and realize they insulted and attacked real human beings for their character on a tv show."
Reinhart and Mendes have both frequently been outspoken about how they navigate the ups and downs of fame and the invasiveness of the media, but at least with their costars, they get to have a little bit of fun on social media.
Where might the cast of Riverdale have learned to be so outspoken toward their online critics, and how did they become such experts at the social media clapback? Well, some signs point to Kelly Ripa—a new addition to the cast, who will play the mistress of Hiram Lodge, portrayed by her real-life husband, Mark Consuelos. Those two are always up in each other's comments on Instagram (as well as the comments section of other celebrities' accounts, often captured by the Comments by Celebs account).
Or perhaps the troll expert was a Riverdale cast member all along. Sprouse is essentially a master troll on Instagram, and has been for years. When he started his account called @camera_duels, the goal was to catch fans in the act of attempting to sneak snaps of the actor with their phones.
Not only do he and his twin brother, Dylan Sprouse, often try to burn each other on Twitter but the actor also seems to love trolling in the comments of his costars' Instagrams, but with love. Recently, after KJ Apa (who plays Archie Andrews) posted a throwback picture of himself as a schoolboy with gaps in his teeth, Sprouse commented, "You look like you ate ice cream teeth first." His twin also got in on the trolling action and commented, "Shoulda kept the teeth, bro." Unsurprisingly, Comments by Celebs captured the entire exchange.
There are, of course, plenty more examples of the Sprouse brothers' roasts memorialized on the main feed of Comments by Celebs.
It's all love with this cast, though, and sometimes Sprouse even trolls himself, or rather, he trolls photos of himself featured on his girlfriend's Instagram account. Hey, at least they're all self-aware.
Related: That Riverdale Cameo on Sabrina Has Deep Implications For Both Shows' Mythologies