Lily Aldridge Takes Us Inside Bulgari's Extravagant, Top Secret Party with Bella Hadid, Sofia Richie, and Demi Lovato
The model talked about her favorite throwback trends at Bulgari's celebration for their new Fifth Avenue flagship.
---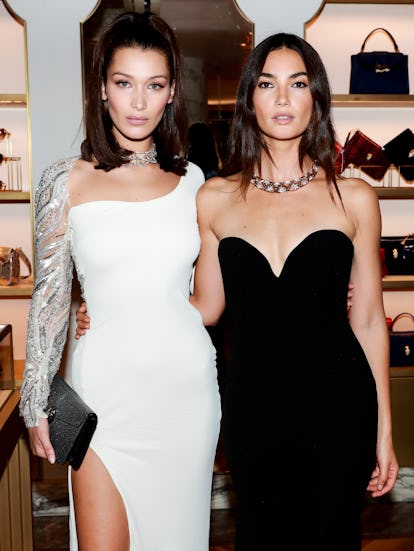 Neil Rasmus/BFA.com
There are very few true surprises in life. And when it comes to fashion parties, there are perhaps even less. But on Friday night, a closely guard secret remained firmly in tact regarding the location of Bulgari's big bash celebrating their new Fifth Avenue flagship. It was so under wraps, in fact, that supermodel Lily Aldridge, who had arrived into town just for the occasion, did not know where she was as heading.
"I don't know anything!" she exclaimed. "I don't know where the dinner is, I don't know who the performer is, I don't know any of the secrets."
The model had just arrived to the cocktail portion of the Friday night festivities, held at the flagship, in a gravity-defying black Alex Perry strapless dress. "On the red carpet, I was like, 'Please no, this is not the time for a [slip]," she joked. The actress had just flown into New York City, and unwittingly packed for the location. "My style depends on my mood, but I packed for this trip and my suitcase is all black."
Aldridge was joining a very fashionable crew of the evening—including Bella Hadid, Laura Harrier, Sofia Richie, Ruby Rose, and Demi Lovato—who played a musical set later in the evening at the very secret and very chic location of the Cloisters—wearing a spectacular Bulgari star-encrusted statement necklace. "It's major, right?" she said of the one-night-only borrowed item. "I just love this piece. It felt very different. It's the saddest thing when it is the end of the night and I'm like, 'Fine, take my jewels.' I love this whole collection. It is just really cool, fun, and different. That is what I love about Bulgari—they aren't afraid to take chances. They make very bold jewelry that is just fun."
Of her own personal jewelry collection—read: what she won't have to return at the end of the night—Aldridge noted, "You like what you like. Bulgari actually gave me one of the Serpenti rings, which I think is so cool because you can wear it on the red carpet, to the Met Ball, or to a rock concert with jeans. It has to be something the speaks to you."
As for her favorite piece of jewelry that she owns? "I never take off my wedding ring. Some shoots I'll be like, 'Oops, I left my wedding ring on the whole time, but I'm not going to tell anyone so I don't have to reshoot the whole thing.' I work so much that it is hard for me to keep any [jewelry] on all the time. People who have stacks of bracelets on, I'm always so jealous of them because I constantly have to remove things."
There is, however, one trend that Aldridge has her eyes set on. "You know what, I did have my belly button pierced when I was fourteen, and I do think that is going to come back soon. Give it a year. Mark my words: the belly button is coming back."
Related: Lily Aldridge Shows Us How to Do Winter Getaways Like a Supermodel
Bella Hadid, a Bubble Bath, and Jenga: What More Could You Want?