Lindsay Lohan Wants Meryl Streep to Costar With Her in a Reboot of The Little Mermaid
Lindsay Lohan is testing out her chops as a casting director, dreaming up roles with highly regarded lead actresses in reboots of classic films.
---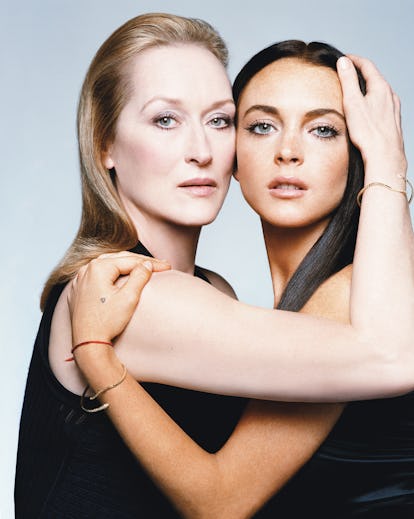 Under the cover of night, Lindsay Lohan, notable provocateur, is re-casting animated classics with herself as the lead. On Monday night, the actress just revealed not only her dream role but her dream costar—she wants to play Ariel in The Little Mermaid, with Meryl Streep cast as the villainous Ursula, according to her Instagram.
On a photo of Ariel and Ursula, Lohan added a text overlay that read, "My dream role with Meryl Streep," and tagged Disney Studios in the caption But before you laugh, consider that this is maybe not the worst idea Lindsay Lohan has ever put out there.
First of all, this hypothetical reboot would not be the first time Lohan and Streep worked together on a film. The two starred in Robert Altman's 2006 film adaptation of the public radio show A Prairie Home Companion. Second, this could very easily be a solid Funny or Die sketch if Lohan's pitch doesn't make it all the way up to the top executives at Disney Studios. Third, this isn't even a bad casting choice—Lohan's got the red hair and the wide eyes to play Ariel, and Streep has the gumption and ability to transform for any role she's assigned to play (and the three Oscars to prove it), so Ursula the evil sea witch would probably be a piece of cake. Perhaps Lohan should keep the idea of being a casting director on the back burner; she might be good at it.
However, Lohan is already too busy with her upcoming reality television series on MTV, which will follow Lohan and her employees at her Mykonos beach club, à la Bravo's Vanderpump Rules. On top of the reality series, Lohan has already turned down a role in the sequel to Life Size with Tyra Banks, so who is to say that she would even have time for a possible reboot of a Disney classic? As for Streep, when she was asked about working with Lohan during an appearance on Watch What Happens Live in 2012, she replied, "Aw, I pray for Lindsay," so it might not be wise to keep those hopes up on this one.
Related: "Life Size 2" Has Started Filming With a Lead Who Isn't Lindsay Lohan