What Is Going on With Lindsay Lohan's Mykonos Resort?
The actress-turned-entrepreneur is working hard to chisel her way back into the pop culture consciousness, one club at a time.
---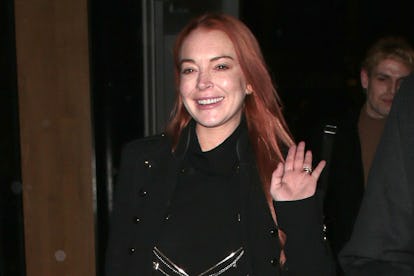 Ricky Vigil M/Getty Images
Lindsay Lohan is in the midst of chiseling her way back into the international pop culture consciousness, but as of right now, she's not setting her sights on returning to Hollywood.
Between signing up as the spokesperson for lawyer.com, her attempts at philanthropic work in Istanbul, and creating an imminent beauty brand, Lindsay Lohan has been quite busy working on her comeback as an entrepreneur. So let's break down all of Lohan's current business ventures. She owns a namesake nightclub in Athens (which she initially opened with the no-longer-affiliated Dennis Papageorgiou), has plans for another club on the Greek island of Rhodes, and has now officially opened the Lohan Beach House in Mykonos.
On top of all that, the actress has kept her hands full with designing not one but two whole islands—according to an interview with Emirates Woman, Lohan's island will take up one portion of the World Islands archipelago in Dubai, and will include "a luxury hotel, Michelin-worthy restaurant, idyllic waterfront pool and plenty of leisure activities."
Last week, Lohan teased a sneak peek of her Beach House on Kalo Livadi Beach in Mykonos, by sharing a snap of the resort's restaurant menu on her Instagram Stories, and on May 31, she released a promotional video (which prominently features footage of Lohan in a bikini shot by Richard Phillips in 2011) with a cryptic caption explaining her gratitude for how "precious" life can be, and the Beach House's tagline "where the sea sets me free."
The fact that her Greek investors have made the decision to go unnamed in the purchase of the resort is not the only curious aspect of it. There's also the original generic (and Lohan-less) promotional video released for the club's soft opening, and its efforts to make "let's get salty" a commonplace catchphrase for all of its followers and hotel guests (although, let's be real—much like Mean Girls' "fetch," this slogan is probably never going to catch on with anyone). All combined, it's clear why the mysterious Lohan Beach House has stirred up some intrigue for the entrepreneur's 6.4 million Instagram followers.
On its site, Lohan Beach House outlines what makes up the resort—a beach, a restaurant, a boutique that sells clothes "fitting perfectly with the avant-garde character of the Lohan concept," and a "wellness corner." The Beach House just opened in May, so the clientele have yet to start arriving in droves, but according to Instagram, those who are thinking about booking their stay can at least get a sneak peek of what kind of food they can order while sitting seaside. It looks like the resort's restaurant menu is comprised of salads, watermelon cocktails, and… fruits on ice? Perhaps that is enticingly delectable enough.
According to TripAdvisor, Lohan's Athens nightclub has been successful in its endeavors so far. The club has garnered some very positive reviews; guests mention being "surprised" at how much fun they have at Lohan's club. It's also been heralded as a "flawless experience," so maybe the Beach House will surprise us all too.
Right now, it is hard to tell whether Lohan Beach House is shady or not, but if the success of the Lohan Night Club is any indication, living on a Lohan-branded resort for the summer could be a strange, but fun time.
Related: Lindsay Lohan Reenacting Mean Girls Lines Will Take You Right Back to 2004