Lindsay Lohan Makes a Surprising Return to the Front Row at Saint Laurent
The actress went to Saint Laurent's show, sitting in the front row for the first time since 2016.
---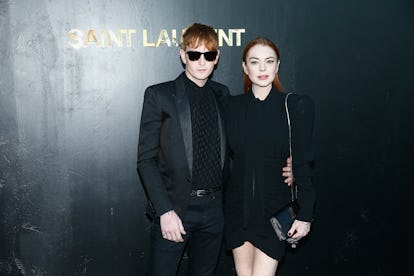 Julien Hekimian
If you weren't on Instagram Tuesday, you may have missed an iconic comeback: Lindsay Lohan's return to the front row of a fashion show at Saint Laurent's latest presentation in Paris. It's just the latest in Lohan's series of never-ending comebacks with interviews, with this attempt, perhaps, sticking. She has an upcoming fashion and skincare line, a burgeoning empire of European beach resorts, and even a reality TV show on the way, so it was inevitable that she would return to the runway in some capacity.
The actress-turned-entrepreneur, who hadn't been seen at a Fashion Week's front row since Gareth Pugh's Spring/Summer 2016 show, spent the afternoon live-streaming her arrival and attendance of the Saint Laurent Summer 2019 show, held in front of the Eiffel Tower, on Instagram. At the show, Lohan was accompanied by her younger brother Dakota, a model himself. The pair documented their journey on IG stories that started with a fitting at Saint Laurent and ended at the afterparty.
From a certain vantage, the show also seemed to be a reunion of sorts for 2007 tabloid culture, with Nicole Richie and Kate Moss attending the show. Certainly Mary-Kate and Ashley Olsen and Kim Kardashian West were otherwise busy.
Lohan's been steadily reminding us that she's back this year doing interviews for the first time in years and announcing grandiose business plans. Earlier this year, the 32-year-old celebrity opened up about her many projects to W, all branded with the Lohan name. She revealed she was set to release a Lohan beauty brand. "I love lipstick, but I love using lipstick as blush," she told us. "But if I have a cream blush, I want to be able to use it on my lips and not worry about breaking out after. So I developed one." Lohan also unveiled she was working on a new clothing line with a Dubai stylist—something she claims would be "closer to haute couture"—a departure from her legging line 6126. (Lohan was previously an artistic adviser to Ungaro). She even has a candle business with Lohan candles.
Currently, her most widely known project is her forthcoming MTV reality series Lohan Beach House, detailing the opening of her latest business-venture club in Mykonos, Greece.
Will her next comeback be a Mean Girls sequel? An updated version of The Parent Trap? A restaurant? We'll just have to wait and see.
Related: Reintroducing Lindsay Lohan: The Actress Has Found a Sense of Calm, and Is Now Ready to Launch a Beauty Brand
Mykonos: Where the Models Go To Play