No More White Cubes and Millennial Pink: Why L.A.'s Hottest Spots Are Now Dark, Moody, and Spooky Chic
Dark times call for a darker look—even in Los Angeles, at ultrahot hotels and restaurants like Vespertine.
---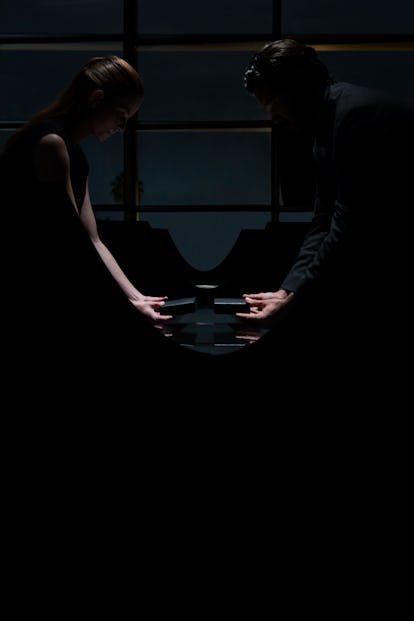 In late 19th century Los Angeles, moody interiors were all the rage. With a nifty invention called electricity—some considered it a fad at the time—natural light was no longer a necessity, and the greatest show of excessive wealth was to have a room that was as dark as possible. Walk around some of the homes at Heritage Square, an open-air museum featuring many late 1800s homes and furnishings not far from downtown Los Angeles, and find morbid details like framed hair wreathes and wood paneling the color of dark coffee. These materials brought nature indoors, since the outdoors was suddenly passé; and post-Civil War, with an entire generation of Americans gone, the macabre hung everywhere.
One might say L.A. is again on the cusp of a similar moment, as the millennial-pink world of the 2010s gives way to something much darker. With California emerging more and more on the vanguard of progress—legislation, Olympics, talk of possible secession—its newest spaces reflect the current mood, or, rather, the moodiness in general. While the lean and streamlined spaces of the aughts aren't going anywhere fast, a richer, witchier aesthetic is brewing. Prix-fixe dining "experiences" like the genre-redefining restaurant Vespertine have touched down in otherworldly environments; hotels have popped up in historic downtown buildings swathed in wood and dark carpet; ultra-hot restaurants appear by the week bathed in jet black. (Not to mention the hex-casting Lana Del Rey, of course, or her witchy predecessor the artist Marjorie Cameron). These spots don't evoke the L.A. of white linens, sunshine, and simplicity. The city is finally starting to shake off its long fixation with the midcentury modern aesthetic, as design insiders will tell you. The new face of L.A. is less cool, more coven.
In Culver City, chef Jordan Kahn's new restaurant Vespertine has topped the city's dining best-of lists—as well as being among its priciest, at $250 a head—for dishes described by L.A. Times critic Jonathan Gold as "a blackness deep enough to suck up all light, your dreams, and your soul" and in The Hollywood Reporter as "depressive haute cuisine."
The restaurant is housed inside a wall-less Eric Owen Moss–designed building wreathed in an exoskeleton of glass and metal. Inside, black banquets with silver tables host pieces of serve ware the color and texture of carbon. As obfuscating and mysterious as the restaurant comes off, Kahn was just as opaque about the design process: "The aesthetic of the project is the result of a culmination of all of the artists and their works, working together in harmony," he said via e-mail. "There were no influences to the aesthetic outside of those involved. With each creative session, we would see our blurry world become more and more clear."
On the other side of town in downtown L.A. at the new Freehand hotel, which opened this summer, one can order a jet-black apple cider potion at the vermillion-tiled bar in a lobby where almost nothing is white. The designers, Roman and Williams, have worked on zeitgeist-defining spots such as the glittery Boom Boom Room in New York, and looked to inspirations like California's late 19th-century and turn-of-the-century Craftsman homes.
"It's a reaction and response to the glut of cool and glassy, white, plastic, sharp and crisp look that was the dominate look for the last 30 years with new construction," designers Robin Standefer and Stephen Alesch said, noting their reliance on wood and more natural materials.
David Alhadeff of the cultish design gallery The Future Perfect noticed the shift when he brought the new Casa Perfect to L.A. this year.
"It's still favored quite a bit here but it's losing the fervor it had," Alhadeff said of Southern California's "impermeable relentless addiction to midcentury modernism," while noting the transition fell in step with the town's shift from a single-industry city to a cultural hub.
"There's something about the time we live in that is scary and raw and real, so this everlasting vision of the 50's is unsustainable," he added.
At Highland Park Bowl, opened last year, I met Bobby Green of 1933 Group, the nightlife group whose spaces range from woodsy-kitsch hipster bars such as Bigfoot East to beer-barrel-shaped haunts like the Idle Hour. Green holds down the design front for the group, which just acquired the historic Formosa Café for restoration. Bowl is their newest spot, in a restored 1927 bowling alley in the quickly gentrifying neighborhood. The warehouse-size space almost exclusively uses wood, metal, and leather—and not much else. As Green proudly pointed out, one won't find a curvy plastic chair anywhere.
"It just dates itself so fast—it doesn't have a permanence to it," Green said of the L.A.'s midcentury obsession. Having worked to restored local spaces, he noted that the revival of areas like downtown has lent itself to a heavier, darker aesthetic. And much like the design trends of 100-plus years ago, there's enough airy slickness to be found in technology. "There's a rebellion against millennial simplicity," he added, "there's so much to experience than dining inside a white box, or an Apple Store."
At Blackman Cruz, the Hollywood showroom of designers Adam Blackman and David Cruz, I nestled into a bourbon-colored leather couch next to a chocolate-colored cube fitted with elephant feet. Blackman and Cruz have been designing from Southern California for 25 years. Their showroom, a former nightclub featured in American Gigolo studded with furniture made of leather, dark wood, and metal, has a lair-like feel. There are lighting fixtures wrought to look like tentacles; antique anatomical models; a wooden accent piece studded with bronze models of fungus.
"I don't know how much you can be cheery and white…" Cruz began on the subject.
"It's a dark time!" added Blackman, finishing the sentence. He leaned on a one-of-kind wood table they designed, featuring a seven-ton boulder at its center. "It's more natural to have a bit of darkness. All these white cubes are like refrigerators!"
They describe the L.A. aesthetic they've cultivated over three decades as complex, idiosyncratic, and sexy—they actually eschew the label of "macabre chic" that's previously been ascribed to them.
They're drawn, Cruz explained, to "things that are kind of ugly in a way, but they're endearing because they're ugly." He pointed to a lapis-colored lamp with oversize brassy shades, which he found in Mexico City. "They're a little nasty, right?"
"We love nasty," Blackman added. "I mean, we have a life-size elephant, for god's sake!" Sure enough, up on a loft in the store, there was a life-size model of a baby elephant.
"Midcentury was very optimistic," Blackman went on. "That's not where we're at. People were building freeways in L.A., and now…"
"You're bringing me down!" Cruz said.
"I can't help it," Blackman shrugged. "I'm pessimistic."
Related: The New Rules of Excess: Inside L.A.'s Giga-Mansion Boom
See what's trending on W video: