Lourdes Leon Looked Fantastic in Her Mask During Madonna's 62nd Birthday
The reclusive style icon mixed the '90s (hoop earrings and a mini dress) with the '20s (face mask).
---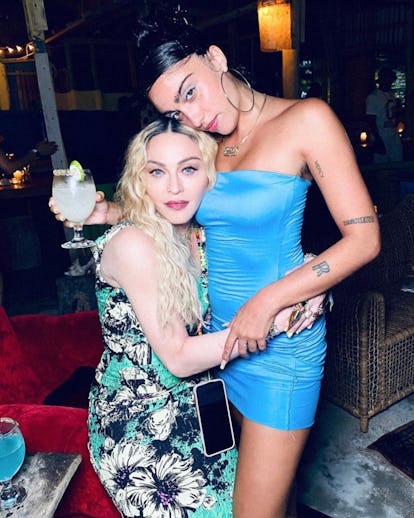 Over the past few years, Madonna's birthday celebrations have become some of the hottest parties on Earth. Every year, the Queen of Pop picks an exotic locale and summons her network of intimates from the worlds of music, fashion, and show business to celebrate with her, usually over a long weekend.
With the pandemic shaking the world, you might assume that Madge would take a raincheck this year. However, the 62-year-old decided to jet off to Jamaica. The guest list seemed to be even tighter than usual this year, consisting mainly of her children, boyfriend Ahlamalik Williams, entourage members, and, uh, Diplo (he does have a home there). That's quite a quarantine bubble.
The more intimate party also allowed Madonna's eldest child, 23-year-old Lourdes Leon, to stand out. The publicity-adverse budding style icon not only looked great, but was the only person in photos shared by Madonna who seemed to be wearing a mask.
Lourdes went for full '90s style with nods to her Cuban-American heritage with a sky-blue minidress, frosty blue eye shadow, statement-making hoop errands, "Lolita" nameplate necklace, bright red pochette, and a neon-tipped take on the French manicure. She topped it off with a matching blue mask.
Leon rarely makes public appearances, and most of them (including popping up at the CFDA Awards or taking part in presentations) are connected to her love of fashion.
Madonna herself opted for a floral print dress with a marijuana-themed manicure.
Madonna has had quite a bumpy road in quarantine. She spent the early part of it house-bound in London while doing things like turning her hit "Vogue" into a ditty about fried fish. Though, she soon claimed to have tested positive for COVID-19 antibodies and was seen out of the house more often. She danced with protestors during #BlackLivesMatter protests in London, but also caught flack for uploading (and then deleting) an Instagram post praising a controversial doctor who claimed to have found a cure. Though all of that, she also managed to find time to collaborate with Dua Lipa.
Jamaica, by the way, managed to avoid the worst of the pandemic (only 1,113 cases have been officially recorded there), and has slowly begun to open itself back up to international tourism. Though, tourists are not allowed to leave the premises of their hotels. The government also requires proof of a negative test from all United States citizens entering the country.