Lucky Blue Smith and Stormi Bree's Daughter Gravity Blue Smith On Instagram: A Tour
Someone sign this baby already.
---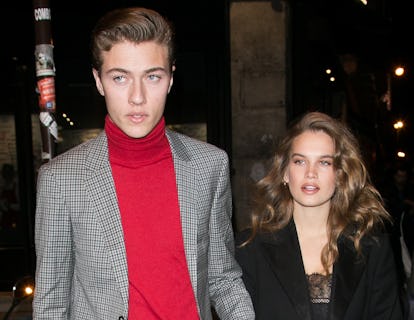 Photo by Marc Piasecki/GC Images
What happens when two professionally beautiful people decide to procreate? They make a beautiful, 'grammable baby, of course! Such is the case with Gravity Blue Smith, the pocket-sized offspring of models Stormi Bree (who was also a teen beauty pageant winner) and Lucky Blue Smith (who is also an author), both of whom boast large followings on their highly curated Instagram pages. They're partial to artsy filters and moody black-and-white portraiture. Their daughter gravity, born in July, doesn't yet have her own account, what with being a baby and all (though that hasn't stopped Dream Kardashian), but she does pop up often enough on her parents' prolific feeds that we've got a pretty good sense of her journey in this world, so far. Let's take a look at the brief and wondrous life of Gravity Blue Smith:
She started, just like we all do, as a fetus:
Then she graduated to infant:
Her stylish parents love her a lot and she is, it must be noted, extremely cute:
She's got a great sense of humor:
As far as hobbies go, she's way into naps;
She's also a fan of the outdoors:
But it's not all fun and games; sometimes her parents take her to the doctor's, which has great lighting, apparently:
She loves hanging out with her auntie Pyper America Smith (also a model):
And she makes an incredible face for mirror pictures:
She had two Halloween costumes: "Prison Mike" from The Office and a mummy:
She's got big blue eyes and she knows how to work the camera:
Seriously, can we get this kid a modeling contract already? She could be the face of a blanket company or maybe a bubble bath? Something soft and / or fuzzy. IMG, Elite, Wilhelmina, are you up? We're looking at the next Kaia here.
Related: Lucky Blue Smith and Stormi Bree Give Birth, Continue Family Legacy of Truly Inventive Names