The Little Cloud Balloon Crashing the Macy's Thanksgiving Day Parade Is "Positive Propaganda" by the Artists FriendsWithYou
Ariana Grande's favorite cloud is getting supersized.
---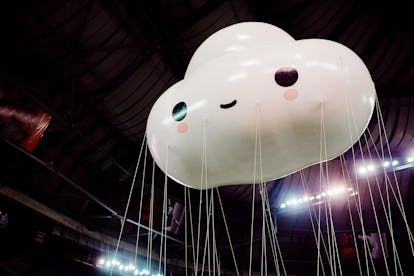 Jeff Sampson
Of all of the possible "big inspirations" for an artist to cite, the Macy's Thanksgiving Day Parade might seem like a less obvious choice. But the televised, heavily sponsored parade has long been a muse for the artist duo Sam Borkson and Arturo Sandoval III, who've been working together under the name FriendsWithYou since 2002. (They even staged a "pseudo parade" of their own at Art Basel Miami, way back in 2006.)
This year, well, they've made it to the big show. On Thursday, Borkson and Sandoval will be spending Thanksgiving morning beneath the dozens of helium balloons parading through New York City. Following in the footsteps of artists like Jeff Koons, Tim Burton, KAWS, and Takashi Murakami, they'll also be adding their own ballon to the mix: Little Cloud, a motif that's become the artists' symbol of "light, tranquility, and unconditional love" over the past 16 years. (Noted cloud-lover Ariana Grande even has the phone-case version.)
"It's almost positive propaganda," Borkson said earlier this week, on a call with Sandoval during which the pair repeatedly expressed their gratitude for the chance to share Little Cloud and its message of love with the estimated 3.5 million people it'll float past on the streets of Manhattan (not to mention the screens of 50 million more who'll tune in on NBC). "It's beyond art for us," he continued, "almost like world activism and world love."
As much as their work means to them, Borkson and Sandoval are not especially precious about it. In fact, they couldn't be more excited to see their work join the ranks of the Grinch and SpongeBob. "Accessibility is central to everything we've ever done," Sandoval said. In the art world, their efforts to disseminate their work throughout popular culture is known as relational aesthetics. Esoteric art speak doesn't really fit in with their kawaii, Japanese-inspired, optimism-infused aesthetics, though, so Borkson prefers to put it this way: "We've really expanded our artwork beyond the gallery to be accessible and understandable. It's relational aesthetics, but with a deep soul."
He and Sandoval have made it their mission to "give people hope and love and some type of relief from our crazy world" for more than 16 years now. They're hoping that the sight of Little Cloud will make its own little contribution to "battling all the dark forces in the world"—"especially," Sandoval added, "in a time like this." (He stopped shy of saying the work is a political statement, though FriendsWithYou's recent retweets about environmental conservation, voting rights, and more issues that have come under fire in the Trump era suggest their leanings.)
Friends Forever: Inside FriendsWithYou's Rizzoli Monograph
Cloudy, 2012. Courtesy of Rizzoli.
Rainbow King in Central Park, 2010. Courtesy of Rizzoli.
Pipo Body Spirit, 2007. Courtesy of Rizzoli.
All the Wishes, 2012. Courtesy of Rizzoli.
Dream Maker, 2008. Courtesy of Rizzoli.
Starburst, 2010. Courtesy of Rizzoli.
Back in 2006, at Art Basel, the inflatables that FriendsWithYou raised with the aim of making "the people of Miami smile" measured 10 by 6 feet. (It's no wonder that Pharrell Williams, whose discography includes an album called Happy, is one of their longtime friends and collaborators.) Whereas they usually manufacture their inflatables themselves, this time, they left the engineering to the resident experts at Macy's, making for one of their largest inflatables yet, requiring 38 handlers to maneuver it through the streets. Little Cloud is all grown up now.
For Sandoval, the parade holds particular significance. When he moved to the U.S. from Cuba, at age 14, he learned about the Thanksgiving Day Parade almost as soon as he learned of the holiday itself. "First of all, Thanksgiving is a completely American holiday, so it was like, Hold on, you get together before Christmas and Noche Buena, eat a ton, and then do it all again? That's amazing," he recalled. "Then, seeing all the balloons and everything together with the rest of that part of the culture, you understand that [watching the parade] is exactly what you do. It's very much an American institution."
After the parade, his and Borkson's presence will continue to be felt throughout New York thanks to two new exhibitions of their sculptures, with a "very heavy" set of bronze ones on view at the Hole to complement the plasticine set at Arsham/Fieg. The artists will also join their work on Thursday, escorting Little Cloud with a rainbow that they'll be tethered to for the length of the parade's two-and-a-half-mile route. Said Borkson: "We may fly away!"
Related: Celebrities Who Are Against Thanksgiving, From Cher to Rowan Blanchard