This New Madonna Documentary Stars an Actress Who's a Doppelganger for the Queen of Pop
Madonna and the Breakfast Club charts Madonna's early, pre-fame career.
---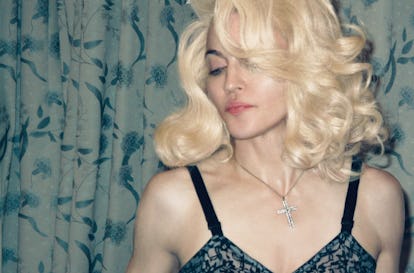 Steven Klein
Nearly two years ago, a Madonna biopic earned top honors on the Black List, a roster of the best unproduced scripts in Hollywood. Last year, that script—Blond Ambition, by Alejandro G. Iñérritu's former assistant Elyse Hollander—was picked up by Universal. Madonna swiftly caught wind of the news, posting on Instagram that "nobody knows what I know and what I have seen. Only I can tell my story." Suffice it to say, she was not thrilled about the idea of a biopic.
But a documentary? On Monday, the first trailer for Madonna and the Breakfast Club, a documentary about the same early period of the Queen of Pop's life as Blond Ambition, was released. Despite apparently treading some of the same territory, this is not the same film that so inflamed Madonna last year. Described as a "docudrama feature film about Madonna's pre-fame days in New York with her first band"—the titular Breakfast Club—the documentary features interviews with Madonna's collaborators from the era as well as what look to be pretty substantial reenactments of key scenes with actor Jamie Auld, perfectly cast in her first role, playing the musician. (A quick browse of Auld's Instagram only confirms what's in the trailer: The actor is a definite doppelgänger for the now-60-year-old soccer mom.)
Let's set the scene. It's 1979, in Corona, Queens. In the first scene in the trailer, Auld, as Madonna, wears a twee butterfly-print dress during band practice, singing lead. It would have been a rare moment out front for the young singer, as interviews with her Breakfast Club bandmates reveal—for at the time, she played drums, while the two boys stood out front with their guitars. When her moment came, she'd emerge from behind her kit to play her two songs.
As the trailer progresses—and as Madonna hones her image—she undergoes a visible sartorial transformation (accompanying the sonic one from Breakfast Club to solo star). "She looked like Bowie and Elvis, to me," a voice narrates off camera. She goes from butterfly prints to pink-and-black stripes to leather crop tops and denim separates as she gets closer to signing a record deal. It's not Blond Ambition, but the ambition is clear. See the trailer, below.
Related: Madonna's 10 Best Weird Songs You'll Never Hear on the Radio
Photographer: Steven Klein Stylist: Arianne Phillips
Victoria Beckham's black cotton and elastane dress, at select Neiman Marcus stores; Bergdorf Goodman, New York. Cornelia James gloves; Madonna's own necklace. On men, from left: Dior Homme's black wool suit, at Dior Homme, New York, diorhomme.com; Pedro LourenCo's black cotton shirt, pedrolourenco.com. Z Zegna tie; David Yurman ring. Prada's black wool suit, at select Prada boutiques, 888.977.1900.

Photographer: Steven Klein Stylist: Arianne Phillips
Chopard bracelet. On him: David Yurman rings.

Follow W magazine on Twitter!

Photographer: Steven Klein Stylist: Arianne Phillips
Vintage sequined silk gown (also shown in the next two scenes), at The Way We Wore, Los Angeles, thewaywewore.com. Erickson Beamon cuff; Jimmy Crystal lighter case; Giambattista Valli shoes. On men, from left: Dolce & Gabbana's ivory silk sateen dinner jacket, at Dolce & Gabbana, New York, dolcegabbana.it; Saks Fifth Avenue, saksfifthavenue.com; Dior Homme's white cotton shirt, at Dior Homme, New York, diorhomme.com. Tommy Hilfiger tie. Prada's white wool jacket, at select Prada boutiques, 888.977.1900; Dior Homme's white cotton shirt and black wool pants, at Dior Homme, New York, diorhomme.com. Trash & Vaudeville tie.

Photographer: Steven Klein Stylist: Arianne Phillips
L'Wren Scott's wool dress (also shown in the next two scenes), at select Barneys New York stores, barneys.com. Cornelia James gloves. On him: Keiko's nylon and lycra spandex swim trunks, at Keiko, New York, keikonewyork.com.

Photographer: Steven Klein Stylist: Arianne Phillips
Burberry Prorsum's leather coat (also shown in the next two scenes), at select Burberry stores, burberry.com; select Barneys New York stores, barneys.com. Calvin Klein collection bag (on floor).

Follow W magazine on Twitter!

Photographer: Steven Klein Stylist: Arianne Phillips
Madonna in Dior sunglasses
Vintage silk lace dressing gown, at Decades, Los Angeles, decadesinc.com; Miu Miu's black silk duchesse satin bra, at Miu Miu, 888.977.1900; Flexees' nylon and spandex briefs, at select Macy's stores, macys.com; select Kohl's stores, kohls.com. Chartreuse ring.

Photographer: Steven Klein Stylist: Arianne Phillips
Photographer: Steven Klein Stylist: Arianne Phillips
Photographer: Steven Klein Stylist: Arianne Phillips
Photographer: Steven Klein Stylist: Arianne Phillips
Hair by Andy LeCompte/Solo Artists; makeup by Gina Brooke/ J. Artist Management using Shu Uemura; manicure by Elza and Wanda/Copacabana Palace. Set design by Arabella Serrell. Male Casting by Luis Viner. Male Models: Jesus Luz/Ford Models Inc., Romulo Pires da Silva/Bananas Models, Julien Quevenne/Ford Men NYC. Production by Betty Prado, Paolo Felisbino and Piera Paula; Lighting by David Devlin. Photography Assistants: Sharif Hamza, Sebastian Mader, Daniel King, Matthew Thompson and Fernando Young. Fashion Assistants: Laura Morgan, Lori Messerschmidt, Kathy Lee, Rebecca Ramsey, Garrett Munce, Marina Franco and Jose Camarano.

Photographed on location at the Hotel Gloria, Rio de Janeiro, Brazil.

Photographer: Steven Klein Stylist: Arianne Phillips
Photographer: Steven Klein Stylist: Arianne Phillips