March For Our Lives: Kim Kardashian, Kanye West, and North West Are Among the Many Celebrities Taking Part In the National Rally
Kim Kardashian, Lady Gaga, Jennifer Lopez and Taylor Swift are among the famous names calling for gun reform.
---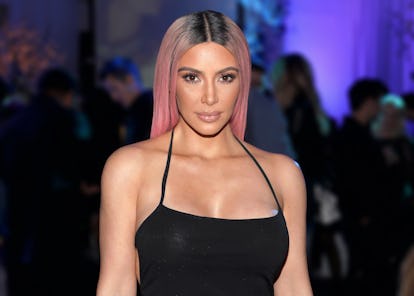 Getty Images
Kim Kardashian, Kanye West and North West are in Washington, DC today to attend the #MarchForOurLives, a national rally for gun control in the wake of the Parkland, Florida school shootings and so many other acts of senseless violence perpetrated by individuals with easy access to firearms. "So ready to March today! Landed in DC w North & Kanye. We stand in solidarity with the survivors of gun violence & students who are calling for action on common sense gun safety laws at #MarchForOurLives around the country," she posted Saturday morning, tagging both the march and Everytown.org.
Many in the Kardashian family, it seems, favors sensible gun regulations, as Khloé tweeted in support of the march, and Kendall Jenner previously tweeted in support of the national school walkout for gun control earlier this month.
And theirs are not the only boldfaced names standing up in support of the movement. Jennifer Lopez, Lady Gaga and many other celebrities have taken to social media to promote the march and the movement. See below for the many inspiring messages of solidarity from public figures who are fed up with our country's culture of so many school shootings and acts of domestic terrorism.
Lady Gaga took her activism a step further, chartering a bus (one of seventeen for the seventeen lives lost in the Marjorie Stoneman Douglas shooting in Parkland) from Harlem to DC to bring young people to the march:
Even Taylor Swift posted (and donated!) in support of the march, writing on Instagram, "No one should have to go to school in fear of gun violence. Or to a nightclub. Or to a concert. Or to a movie theater. Or to their place of worship. I've made a donation to show my support for the students, for the March For Our Lives campaign, for everyone affected by these tragedies, and to support gun reform. I'm so moved by the Parkland High School students, faculty, by all families and friends of victims who have spoken out, trying to prevent this from happening again."
Related: Taylor Swift Supports Gun Control Without Making Any Political Statements