Mariah Carey Selling Her Engagement Ring From James Packer Is the Ultimate Power Move
James Packer wanted the ring back. Then, Mariah Carey sold it.
---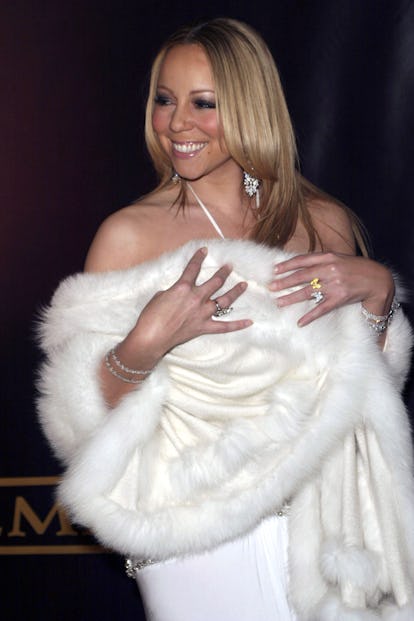 Ferdaus Shamim/Getty Images
Among all the devastating celebrity breakups of 2016, it was perhaps Mariah Carey's split from billionaire fiancé James Packer that stung the most. The pop star's yacht-deck selfies were tiny points of light in an otherwise doomed year, one that's been followed by the cursèd years of 2017 and 2018, and her antics were a masterclass in how to be the ultimate summer diva.
Of course, just because she's no longer engaged to Packer doesn't mean Carey isn't still flexing the hardest on Instagram; she was doing that long before he came about and will continue long after he's left the picture. Mariah Carey is an independent woman: She just sold the massive engagement ring Packer gave her, worth a reported $10 million.
This, recall, is the same ring that, earlier this year, Packer had requested be returned to him—even after they had determined, in a settlement, that she would hold onto the 35-carat diamond. On Sunday, Page Six reported Carey had a business manager sell the ring—with a confidentiality agreement—to a Los Angeles–based jeweler for $2.1 million. An anonymous source also contested its previous $10 million valuation: "She owns multiple homes, her entire catalog of music, and she's had numerous successful tours and residencies," that source added, dismissing the idea that she sold it out of necessity.
Carey had frequently worn the ring when out and about with her next boyfriend, dancer Bryan Tanaka, from whom she split in 2017. "Mariah has been very vocal recently about her choice to move forward in her life surrounded by positivity," Carey's publicist told Page Six. "That requires leaving emotional and material baggage behind, including an old engagement ring from an ex-boyfriend." Plus, there might be no better power move than winning custody of a fancy jewel when you split from a boyfriend, only to go on to sell it.
Related: Mariah Carey Is Working on a New Album and Doesn't "Give a Damn" About the Grammys
A Guide to the Absurd Athluxury Celebrities Have Worn to the Gym
Jennifer Lopez in a $1,500 mohair Givenchy sweater and a fur coat leaving a gym in New York, May 2017.

Raymond Hall/Getty Images
Lady Gaga carrying a teacup on her way to Bikram yoga in London, June 2015.

Keith Hewitt/Getty Images
Kendall Jenner carrying a Louis Vuitton bag while leaving the gym in New York, July 2017.

Team GT/Getty Images
Taylor Swift in lipstick and platform heels, carrying a Tod's bag, outside of her gym in New York, July 2014.

Raymond Hall/Getty Images
Mariah Carey in high heels, fishnets, a leotard, and a gold necklace at the gym, February 2017.

Courtesy of @mariahcarey
Gwyneth Paltrow in a Chanel blazer outside of a gym in New York, June 2010.

Christopher Peterson/Getty Images
Bella Hadid in a $300 Champion x Kith sweatsuit on her way to the gym in New York, February 2018.

Raymond Hall/Getty Images
Victoria Beckham getting a workout in while wearing a pair of wedges and throwing the first pitch at the Los Angeles Dodgers vs. New York Mets game at Dodger Stadium, June 2007.

Jon Soohoo/Getty Images
Kim Kardashian walking her daughter North West, who's wearing a purple tulle dress and heels, on the way to the gym in New York, September 2015.

Raymond Hall/Getty Images
Lady Gaga in a fuschia satin dress, wraparound sunglasses, and a beehive leaving a Bikram Yoga class in London, November 2010.

Sylvia Linares/Getty Images
Taylor Swift once again in lipstick and platform heels, carrying a Tod's bag, outside of her gym in New York, July 2014.

Alo Ceballos/Getty Images
Kim Kardashian wearing fur outside of a gym in New York, February 2015.

Raymond Hall/Getty Images
Vanessa Hudgens in a pair of knee-high UGGs outside of her gym in New York, March 2015.

Raymond Hall/Getty Images
Lady Gaga leaving Bikram Yoga in a cape and Ferragamo skirt, sans yoga mat, in London, June 2015.

Neil Mockford/Getty Images
Taylor Swift in knee-highs, heeled oxfords, and a bowler hat on her way to the gym in New York, April 2014.

Raymond Hall/Getty Images
Khloé Kardashian carrying a $690 Fendi fox fur keychain on her way to the gym in Los Angeles, April 2015.

Bauer-Griffin/Getty Images
Lady Gaga in leather gloves, Chanel sunglasses, fishnets, and a leotard outside of a yoga studio in Madrid, December 2010.

Philip Ramey Photography, LLC/Getty Images
Orlando Bloom in a a nearly $800 motorcycle helmet leaving a yoga glass in Los Angeles, December 2010.

Philip Ramey Photography, LLC/Getty Images
Kim Kardashian in a Yeezy leather jacket and Kanye West in a tightly wrapped bandana leaving the the gym in Paris, May 2014.

Marc Piasecki/Getty Images
Kendall Jenner carrying a Louis Vuitton fanny pack outside of a gym in New York, August 2017.

Josiah Kamau/Getty Images
Taylor Swift in tights, lipstick, and heels leaving Tracey Anderson's gym in New York, April 2014.

Raymond Hall/Getty Images
Kanye West in another tightly wrapped bandana leaving the the gym in Paris, May 2014.

Marc Piasecki/Getty Images
Katy Perry with a quilted Chanel bag leaving the gym in Beverly Hills, April 2010.

Philip Ramey Photography, LLC/Getty Images
Taylor Swift in a crop top, overalls, and Gucci bag leaving ModelFit Gym in New York, May 2015.

Josiah Kamau/Getty Images