Marina Abramović and Ulay, Performance Artist Icons, Are Finally Over Their '80s Breakup on the Great Wall of China
A lawsuit and two major retrospectives later, the pair is moving on from their ever action-packed past.
---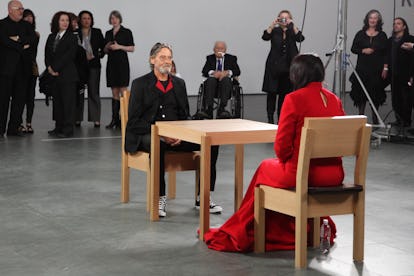 Patrick McMullan/Getty Images
Judging from the past week—and, come to think of it, this entire year—one could hardly be blamed in thinking that love is officially dead. (Anna Faris and Chris Pratt, Amber Heard and Elon Musk, and Dasha Zhukova and Roman Abramovich have all called it quits just within the last few days.)
Miraculously, though, at the same time, one of the most unlikeliest reunions has also come to be: the famed performance artists Marina Abramović and Ulay, who orchestrated the artsiest breakup possible back in the late '80s, have at long last made amends.
To be clear, the pair, who dated for over a decade, is not back together romantically, but they have made serious advances from where they'd last left it. That would be on the Great Wall of China, where in, 1988, after traveling from opposite ends until they met in the middle, they originally intended to marry.
Instead, upon their reunion, they broke up, which would explain why, in 2010, when Marina Abramović had her major retrospective, "The Artist Is Present," at New York's Museum of Modern Art, the only thing that disrupted her determined 736 motionless hours sitting across from over 1,500 visitors, including Björk and Lou Reed, was the surprise appearance of Ulay, who showed up unexpectedly on the show's opening night. He was in fact the night's guest of honor, but it took even the show's curator Klaus Biesenbach by surprise when he took a seat opposite Abramović—and ended up prompting a teary Marina to break character and clasp Ulay's hands. (You can see the moment, which quickly went viral, below around the 1:10 mark.)
Now, it's another retrospective—Abramović's first major one in Europe, at Copenhagen's Louisiana Museum of Modern Art—that's again bringing the pair together, and putting "all the anger and all the hate" behind them," as Abramović told the museum's Louisiana Channel. The MoMA reunion, after all, was no return to their glory days: in 2015, Ulay successfully sued Abramović for violating a 1999 contract they signed regarding their shared work, amounting to Abramović forking over nearly $300,000 in royalties—and having to credit her works from 1976 to 1980 to "Ulay/Marina Abramović," and those from 1981 to 1988 as "Marina Abramović/Ulay." (At the time, Ulay likened his triumph to his victory over cancer.)
The pair first teamed up romantically and artistically when Abramović, who was born in Belgrade, moved to Amsterdam in 1976, and met Ulay, whose birth name is Frank Uwe Laysiepen. Soon, through their collective duo they called The Other, they heralded a new era of collaborative and performative art—and particularly one fond of pushing to extremes.
The year they met, they once ran into each other repeatedly for an hour; the following year, they braided their hair together and faced opposite directions for 17 hours. Twice, once in '77 and again in '78, they inhaled and exhaled each other's breaths until they fell to the floor unconscious. And, between '81 and '87, they did 22 performances of "Nightsea Crossing," which consisted of sitting across from each other and staring silently for a total of seven hours—a work that Artnet points out Abramović's MoMA's performance was essentially a solo version of, though to be fair, back in the '80s, Ulay was famously unable to keep up with Abramović.
At the opening of Abramovic's Copenhagen show last week, Ulay was right there with her to debut the video The Story of Marina Abramovic & Ulay, produced by the Louisiana Channel, which features interviews with each artist separately and which they "are very happy with." According to Ulay, who called it "a beautiful story," the pair "have become good friends again," and "every nasty, disagreeable or whatever from the past, has been dropped."
It's just too bad the pair didn't make amends in time for Ulay to attend Abramović's star-studded 70th birthday bash at the Guggenheim last year, which chiefly featured one of the pair's favorite activities: staying completely silent.
Related: Inside Marina Abramović's Manhattan Apartment
See Kendall Jenner's Interpretation of Marina Abramović: