Why Mark Wahlberg Got Paid More for All the Money in the World Reshoots Than Michelle Williams
It's more evidence of Hollywood's gender pay gap.
---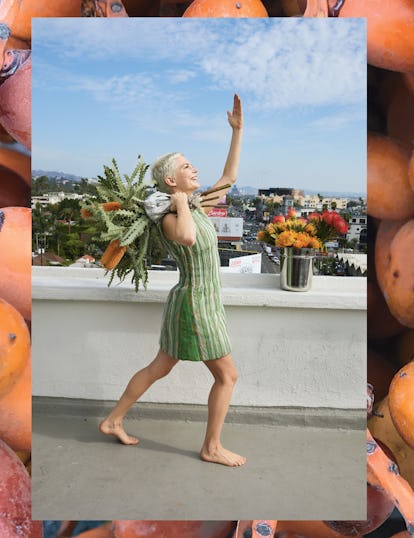 Photographs by Juergen Teller; Styled by Edward Enninful
This week it was revealed that Michelle Williams made an incredulous small percentage of her co-star Mark Wahlberg's pay for reshoots of All the Money in the World, following Christopher Plummer's recasting in the wake of Kevin Spacey's sexual assault allegations (and subsequent non-apology apology). Williams took home a paltry $1000 for giving up her time and Thanksgiving to reshoot, meanwhile Wahlberg pocketed $1.5 million for doing exactly the same. Now, it has been revealed why and how Wahlberg was paid so much more than Williams and, the answer isn't in the least bit comforting.
There are two reasons main reasons, the first being that Wahlberg and Williams — who are both represented by the same agency, William Morris Endeavor — started out the project with unequal contracts. Wahlberg's stipulated that he was not required to do reshoots, while Williams was, according to The Wrap. Wahlberg's agent Ari Emanuel — the person that Jeremy Piven's character of Entourage was based upon, which was by the way produced by Wahlberg — was in part able to grant his client this advantage because the actor reportedly initially signed up to do the film at a pay cut to add prestige to his résumé.
The second reason Williams walked away with what amounted to nearly $80 a day for reshoots is that, because Wahlberg's contract didn't necessitate reshoots, he was able to renegotiate his pay for them. Which put director Ridley Scott in the precarious position of bringing on Plummer before Wahlberg's contract was settled, as TMZ reports. Once Wahlberg committed and everyone else followed, his reps reportedly pointed out that he wasn't required to do reshoots and demanded more money. Perhaps not surprisingly, TMZ reports that Scott "feels betrayed and angry."
It's just one more case study of Hollywood's persistent gender pay gap. The very same one that helped Wahlberg earn the top spot of Forbes' World's highest-paid actors of 2017 list at $68 million and Emma Stone land at the top of the highest-paid actress list with less than half of that at $26 million.