Martha Stewart Takes Her First Uber Ever, Is Not Particularly Pleased
"I want Uber to succeed!"
---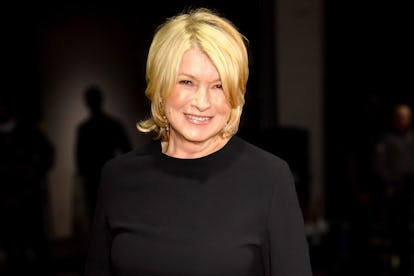 Jeff Kravitz/FilmMagic/Getty Images
While Martha Stewart's professional Instagram feed, @marthastewart, is the image of perfectly curated domesticity, her personal account, @marthastewart48, is where it really goes down. So when the lifestyle mogul took her first Uber ride, on Monday, naturally, it was to her personal account that she posted her extremely candid review. And it turns out that everyone, even Martha Stewart, has an Uber horror story.
Stewart posted a series of four photos of the interior of her Uber Monday morning, describing the scene in words and images. "I ordered the most expensive version to pick me up on Fifth Avenue and 57th street in front of Tiffany's," she captioned the slideshow. "The first Uber did not show up The second Uber came ten minutes later and parked halfway down 57th street where I could not see the license plate Then we were facing east when I had to go west and south Took twenty minutes to face south west Etc etc it only took a bit more than one hour."
"On top of it all the car was a mess inside and out!!!!!!!!" she went on, adding exclamation points for extra emphasis. The photos illustrate the "mess inside": empty water bottles, presumably from previous passengers, in the door cup holder; dead leaves and grit studding the floor; and, draped oh-so-casually over the floor mat, Stewart's snakeskin pumps, her feet crossed at the ankles.
"And I want Uber to succeed!" Stewart concluded. Did no one tell her she was supposed to delete Uber? Perhaps this will provide fodder for some serious holiday conversations—after all, Stewart thinks talking politics at the dinner table is decidedly in.
Given this was Stewart's first Uber ride, perhaps she simply needs to improve her rating before she can get the really good rides. (God forbid she ever venture out in an Uber Pool.) Then again, if you ever find yourself picking up Martha Stewart for a ride, you might want to consider giving the car a good vacuum, at the very least.
The pop star Lorde had her own Uber horror story, back in 2016—not only did the driver not recognize her, but, as she tweeted at the time, he was "busting a nut about the fact that there was a 'celebrity passenger' just before me." Not that it's a huge deal that the driver didn't recognize her—but it meant he was chatty. Which, no, thanks. Now we'll be waiting patiently for Princess Beatrice's review. But if Uber doesn't treat Martha Stewart as royal enough, we're not sure it matters.
Related: Martha Stewart Is a Glamorous Budding Media Mogul in Throwback Photo