Mary-Kate Olsen and Olivier Sarkozy Spent the Night Ogling Nudes with Naomi Watts and Liev Schreiber
Things got sensual at the New York Academy of Art's annual Take Home a Nude auction.
---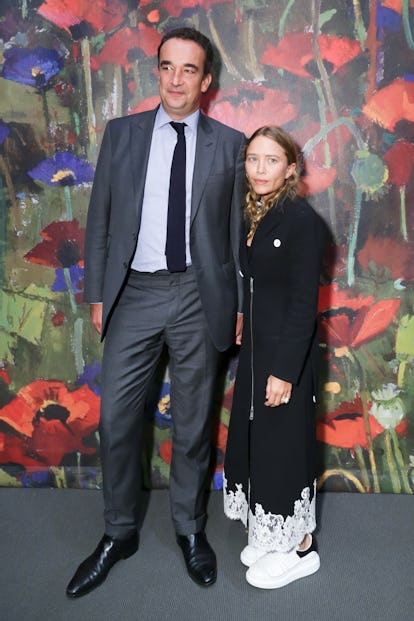 BFA
It was about 30 minutes before bidding closed at the Take Home a Nude auction on Wednesday night at Sotheby's on Manhattan's Upper East Side, and Brooke Shields, who was attending the New York Academy of Arts's 26th annual benefit for the sixth year in a row, was having a crisis. After a frantic phone call ("Oh no, oh no, oh no"), Shields cleared up that it "wasn't [her] kid" that had her distraught, but in fact her dear friend Helena Christensen, who was apparently got lost on her way to join her at the event.
Sure, her reaction was a little overblown, but Shields takes her taking home a nude very seriously—even though this year, to her disbelief, she "didn't get anything" at the auction, which as always features a selection of nude artworks. As usual, she started bidding online days beforehand, and had her eyes set on a Beth Rundquist painting that was "just a nude man. And who doesn't love a nude man? I just felt like I needed to live with a nude man," she said with a laugh.
Luckily for Shields, the surrounding artworks provided plenty for her to gawk at, including a young Jean-Michel Basquiat in the full-frontal buff, captured by the photographer Paige Powell in the early 80's. Shields was hardly alone in taking the views in: Lorne Michaels, Andy Cohen, Padma Lakshmi, and Nan Goldin all turned up to honor the painter John Alexander—and raise over $1.1 million for the Academy's scholarships and programs through their ogling.
Also present in the flesh were the apparently very happy couple Mary-Kate Olsen and Olivier Sarkozy, who made their first red carpet appearance since January, while holding hands adorably. They weren't the only ones getting close: Even now-separated Naomi Watts and Liev Schreiber came together to chat while doing their bidding and mingling.
Not everyone in attendance, however, had lately been so lucky with friendly reunions. Chris Noth somewhat gruffly explained that he was there because "a friend of mine invited me, and I like paintings"—never mind that he "already [has] a couple of nudes, so I'm not needing those anymore"—but got animated when discussing his projects in the works, like his Netflix miniseries Manhunt: Unabomber, and even a project of his that apparently isn't in the works: Sex and the City 3.
"I didn't even know there was a script, so I was completely out of the loop," Noth, aka Big, said of the series's potential third film, which is reportedly not moving forward because Kim Cattrall declined to return. As for whether he wants it to happen? "I wouldn't know until I read [the script], but I probably would have. You know, it's a great group of people," he said, then paused and added with a laugh, "but it's over, so, f— it."
Also over, according to Christensen, when she finally showed up wearing Prada, is the newfound modeling career of her son Mingus Reedus, even though he made a splash just a few weeks ago at New York Fashion Week.
"He's not really [a model]," Christensen said. "He did the Calvin Klein show with his cousin because they thought it was fun to do together—and a great opportunity—and then he did a shoot with me, but I think he did that more of a favor to me. After those two jobs, he's kind of already like, 'I don't know about this.'"
Here, she got a loud "shhh" from Shields, who was doing her best to pay attention to the live auction over the chatter. Christensen continued in a whisper: "He's going to be 18 in two days, and he's doing all the tests for college, so I think that's what preoccupies his mind right now."
"She was telling me to shut up," Christensen added with a smile and gesture over to Shields, and then dutifully did her friend's bidding.
Related: According to Carla Bruni, Mary-Kate Olsen and Olivier Sarkozy "Seem So Happy" in Their Marriage
India Salvor Menuez's Version of Botticelli's "The Birth of Venus" Is Still Naked, but Much Snarkier: