The Crown Producers Address Pay Gap Between Claire Foy and Matt Smith
"The actors are not aware of who gets what, and cannot be held personally responsible."
---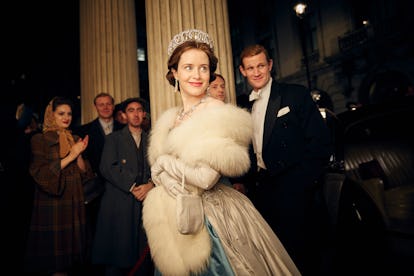 Netflix
As Hollywood begins to heal and course-correct to become a more inclusive place, pay gaps continue to be exposed. The Crown, the beloved Netflix series detailing the U.K. monarchy's history, is the latest program to be outed as sexist. Last week, it was revealed that stars Claire Foy and Matt Smith, who play Queen Elizabeth II and Prince Philip, receive different compensation for their roles. Foy, who has more screen time than Smith, is paid less than him, although exactly how much is being kept under wraps. Today, however, the show's producers have issued a statement, and it is seemingly in defense of Smith.
"We want to apologize to both Claire Foy and to Matt Smith, brilliant actors and friends, who have found themselves at the center of a media storm this week through no fault of their own," says the statement given to Deadline. "Claire and Matt are incredibly gifted actors who, along with the wider cast on The Crown have worked tirelessly to bring our characters to life with compassion and integrity."
The statement is no doubt in response to a Care2 petition demanding that Smith and Netflix give the difference in salaries to Time's Up, a movement and nonprofit that provides victims of sexism and sexual misconduct with legal defense funds. "You know gender pay gaps are a problem when even the Queen isn't paid fairly," says the petition, which, at this moment, has amassed 26,626 out of its 30,000 desired signatures and comes in the wake of a similar petition that pressured Mark Wahlberg to donate his pay for All the Money in the World reshoots—for which co-star Michelle Williams received dramatically less money for completing the same work—to Time's Up. (Wahlberg eventually obliged.) "Sign my petition asking Netflix and Matt Smith make up for this sexist pay gap by donating the difference in their paychecks to the TIME'S UP Legal Defense Fund for Sexual Harassment & Abuse Victims!"
Accordingly, The Crown producers indirectly asked that Smith not be held accountable for the difference in his pay. "As the producers of The Crown, we at Left Bank Pictures are responsible for budgets and salaries; the actors are not aware of who gets what, and cannot be held personally responsible for the pay of their colleagues," says the statement. "We understand and appreciate the conversation which is rightly being played out across society and we are absolutely united with the fight for fair pay, free of gender bias, and for a re-balancing of the industry's treatment of women, both those in front of the camera and for those behind the scenes."
Left Bank Pictures, which is in charge of the show's payroll, has since guaranteed that Foy's replacement, Olivia Colman, will be compensated fairly. "Going forward, no one gets paid more than the Queen," said producer Suzanne Mackie, according to Jezebel. Meanwhile, The Crown producers have announced plans to support Time's Up in the U.K. and like-minded organization ERA 50:50. "We all have a responsibility to do what we can to ensure that these issues are tackled," says the statement, "and as a leading production company we want to make our contribution to the debate."
Related: Claire Foy Loses Her Mind (But Gains an American Accent) in Unsane Trailer