Meghan Markle and Kate Middleton's Thank-You Notes Confirm They're a Class Act
They're truly a class act.
---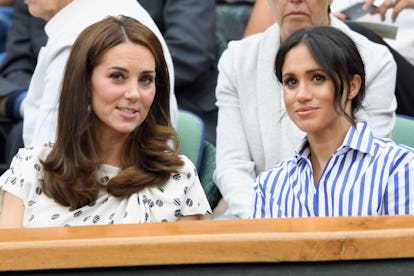 Karwai Tang/WireImage
Meghan Markle and Kate Middleton are beaming examples of how to lead a life in the public eye. With that comes all kinds of obligations, including responding to the hundreds of fans who've sent their well wishes. Not surprisingly, Markle and Middleton excel at that too.
The two royals recently sent out a large batch of thank-you notes and it didn't take long for photos of the cards to pop up on social media. Markle thanked fans for wishing her a happy birthday, as the actress and humanitarian recently celebrated turning 37 while attending the wedding of her husband Prince Harry's friend, Charlie van Straubenzee. Her card consisted of a photo of the Duchess of Sussex greeting her fans and the message: "The Duchess of Sussex is so touched you took the trouble to write as you did on the occasion of her 37th birthday. It really was most thoughtful of you and Her Royal Highness sends you her heartfelt thanks and best wishes." Reading the note, it's hard not to hear it in Markle's delicate, hybrid American-British accent.
Her sister-in-law, on the other hand, sent out an equally sweet sentiment to acknowledge the notes she received for Prince Louis' recent baptism. The thank-you note came with a photo of Middleton holding her and Prince William's youngest child and the message: "The Duke and Duchess of Cambridge were touched that you took the trouble to write on the occasion of their son, Prince Louis. Their Royal Highness are so grateful for all the wonderful messages they have received and send you their warmest thanks and best wishes."
No doubt the thank-you notes are part of both of their royal training, which included learning everything from a curtsy to rules around eating. "[Markle] will always have to remember, in public at least, that she is royalty and certain behaviors are expected," as Majesty Magazine editor-in-chief Ingrid Seward said last October. "American manners are different than British manners. [She] can't walk down the street eating or chewing gum. We hold our cutlery differently. It's a whole different culture." Clearly, Markle is a quick learner, considering the Queen has already given her subtle stamp of approval.