Meghan Markle's New Favorite Bracelet Was a Gift From Her Father-in-Law Prince Charles
Diamonds are a girl's best friend.
---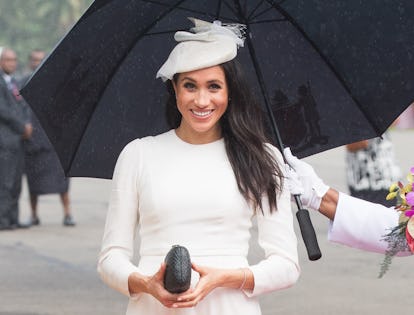 Samir Hussein/Getty Images
Meghan Markle has a new favorite bracelet.
As first reported by The Sun's royal correspondent via Twitter on Tuesday, Markle revealed the present Prince Charles gifted her on her wedding day — a gorgeous tennis bracelet adorned with dozens of diamonds.
She wore the bracelet on Tuesday first with a chic white dress, a matching white fascinator, and a black clutch, plus another shiny gift from her in-laws: the diamond-and-pearl earrings given to her by Queen Elizabeth several months ago. Later in the evening, she paired the bracelet with a Fiji-blue cape gown, that she changed into for a black-tie dinner welcoming her and Harry to the island.
As Cosmopolitan notes, the Duchess of Sussex has actually worn the bracelet several times over the past few months. She first wore it for a dinner reception the evening before her royal wedding, in May, then again a few weeks later, rather appropriately, at Prince Charles's 70th birthday celebration.
Markle and Prince Harry are currently embarking on the second week of their royal tour throughout Australia, New Zealand, Fiji, and Tonga, a tour that has spurred way too many news stories about the duo. One of them being the fact that Prince Harry revealed that he's hoping he and Markle, who's currently about three months pregnant, will welcome a baby girl — who will likely go by something off the "long list" of baby names Markle recently said they're already perusing.
Prince Charles already has the perfect baby gift picked out.