Meghan Markle Would Like a "Time Out" From Her Estranged Father, Please
The newly minted royal speaks for all of us, really.
---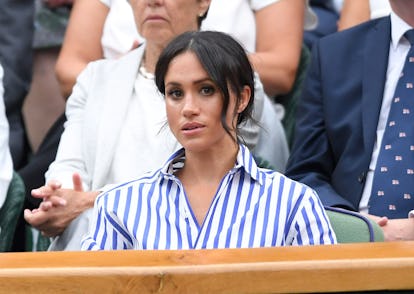 Karwai Tang/WireImage
How do you solve a problem like Thomas Markle? Apparently, by taking some time off from Thomas Markle. Earlier this year, the estranged father of Meghan Markle made his tabloid debut, starring in paparazzi photos that seemed to show him "studying" for his daughter's impending marriage to Prince Harry. In the photos, since revealed to have been staged, he can be seen sitting in a café reading books like Images of Great Britain and being measured for a custom (presumably wedding) suit. Since then, he's been an unavoidable presence in the lives of the royals, even from thousands of miles away, and according to a recent update from the Daily Mail, the royals—Meghan included—are, well, sick of it.
In a recent interview with the British morning show Good Morning Britain, the elder Markle, 73, said he and Harry had a tense phone conversation after it was revealed that Markle had been paid handsomely for his staged photos. (Harry, apparently, had previously warned his fiancée's father that he should avoid the paparazzi. "He was right," Markle admitted in hindsight in the same interview.) By Thomas Markle's account, he was in a hospital bed, recovering from his recent heart attack, when he got on the phone with Harry. Markle got so "upset" by the Harry's "rude" call that he ended up hanging up on the prince.
"Maybe it would be better for you guys if I was dead," Markle said, per the Mail. "Then you could pretend to be sad." At that point, he said, he hung up.
Meghan had also told him he would not be permitted to give a speech at the wedding. "That hurt," Markle said. Nevertheless, he said, "I'm not mad at Harry. I'm not mad at Meghan. I love them. I wish them well. But as for the rest of it? F— it, I'm done." It's not clear what "done" means when, not a month prior, he also pleaded for Meghan to get in touch in a paid tabloid interview. Markle has been known to give inflammatory interviews—after all, it was during a previous Good Morning Britain interview that he alleged the prince was, at one point, pro-Trump and pro-Brexit. (These claims are entirely unsubstantiated.)
This brings us to the recent reaction from the royals. Harry might still be alarmed by all the tabloid fascination with his new wife, but even more alarming is the news generated by her estranged father. "Royal officials have met and discussed him complaining that she has cut him off. They know it is a problem," an anonymous source told the U.K. tabloid The Sun. It's understandable that they would take issue with Markle accepting money in exchange for not only photos, but also headlines.
Meghan, for her part, would just like a bit of a break, please. (Just a week ago, another source said there was "no chance" of reconciliation for father and daughter.) "Meghan loves Thomas and does want to maintain a relationship with him in the long run. But at the moment she feels he needs a bit of space. She also wants to take a bit of time out," the same source said. "This will be on her terms. She is the one in control."