Thomas Markle Insists Meghan Markle and the Royal Family Are Ghosting Him
Thomas Markle, father of Meghan Markle, was paid to give another interview, in which he insisted that he has no way of contacting his daughter.
---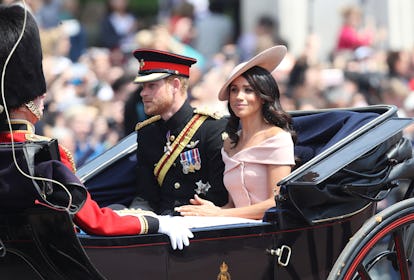 Chris Jackson/Getty Images
Meghan Markle's father, Thomas Markle Sr., is speaking out again in an attempt to do damage control on another press debacle.
According to a recent paid interview with The Sun, the father of the duchess is unhappy with the fracturing of his relationship with the royal family, who has not taken very kindly to his decision to accept cash for attention in the tabloids. Prince Harry and Meghan Markle were reportedly not too thrilled to see the on-camera interview in which her father insisted the duchess is "terrified" of royal life and that he has no way of contacting her, especially after the staged paparazzi photos fiasco and his last-minute decision to skip the royal wedding, in May. "There's a high price to pay to be married to that family," he said.
After it was reported by Entertainment Tonight that the royal family has been upset by Markle's recent tabloid interviews, he told TMZ, "I was silent for a full year and the press beat me up every day saying I was a hermit hiding in Mexico, so I gave my story. Apparently that interview put the royal family in their silence mode…. So, I gave another interview to break the silence. All they have to do is speak to me." Markle told The Sun that the royal family has since changed their phone number, and the designated liaison with whom he had been communicating before appearing on Good Morning Britain for a tell-all interview in June has now ghosted him.
Markle made his public plea to his daughter and son-in-law in the interview, insisting that he is willing to fly from Mexico to Kensington Palace, and saying, "My message [to her] would be, 'I love you, I miss you, I'm sorry for anything that went wrong.' And I want to be her child's grandfather, and I want to be near them. I want to be a part of their life. I'd like to put our differences behind us, and get together. I miss you very much." His message to Prince Harry was much more curt. "Get over it. I'm your new father-in-law," Markle said.
In the paid interview with The Sun, Markle also spoke very critically of the royal family's rules and regulations, particularly the dress code to which the duchess must now adhere. "Why in 2018 are we dressing like the 1930s?" he asked. "Why do they have to cover their knees?"
The duchess herself reportedly has a few issues with some of the rules she must now follow as a royal, according to reports in People. Markle "has found certain rules in the royal household difficult to understand, like the fact that the Queen prefers women in dresses or skirts rather than trouser suits, and is often asking Harry why things have to be done in a certain way," according to their source. Perhaps that is why it has been reported that the the outspoken royal "breaks royal tradition" seemingly at least once a week.
Related: Meghan Markle Wears Pink Nail Polish to Public Royal Outing