Meghan Markle Reveals She Sewed a Piece of Her First Date Outfit Into Her Wedding Dress
It was her "something blue."
---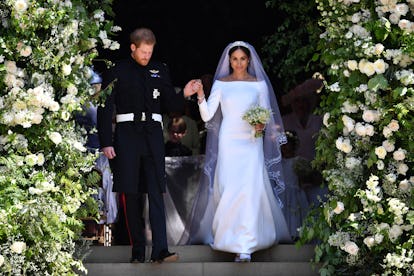 WPA Pool
On October 1, the long-awaited HBO documentary Queen of the World will finally give the royal-hungry public an inside look at the royal family, or so it promises.
The film features Prince William and Prince Harry, but also has a cameo by Meghan Markle, who shares previously undisclosed details about her Givenchy wedding dress.
In the new documentary, Markle gives her first interview since her nuptials, and reveals there's a secret "something blue" sewn into the fabric of her wedding gown. While looking at the dress on display, Markle asks the interviewer, "Somewhere in here, there's a piece…. Did you see it? The piece of blue fabric that's stitched inside?"
The interviewer replies that she can't see anything, and Markle says that the "something blue" in there was a piece of "fabric from the dress that I wore on our first date," referring to her first date with her now husband, Prince Harry.
It's an emotional moment for Markle, who can't contain her excitement, giggling as the interviewer replies to her story, saying, "That's about the most romantic thing I've ever heard."
Markle's commemoration of her first romantic encounter with her future husband is a testament to the royal couple's bond. Following their engagement announcement, the couple gave a TV interview revealing details about their first date.
Markle disclosed that it "was a blind date," while Harry recalled being in awe of his future wife, saying, "I was beautifully surprised when I walked into that room and saw her. I was like, 'Okay, well I'm going to have to up my game.'" Right after their first date, they decided to meet up again. Aw.
The Queen of the World documentary is a rare opportunity for an up-close-and-personal look at Queen Elizabeth and how she has served Britain and the Commonwealth. Viewers will also get to see old footage of the royal family, as well as candid conversations with Prince Charles and Princess Anna about their mother, Queen Elizabeth, in the two-part series. You can see the clip of Markle examining her "something blue" over at Elle.