The Theory That Melania Trump Has a Body Double Actually Isn't So Crazy After All
A new look into the first lady's White House office proves that she's been mysteriously absent since taking office.
---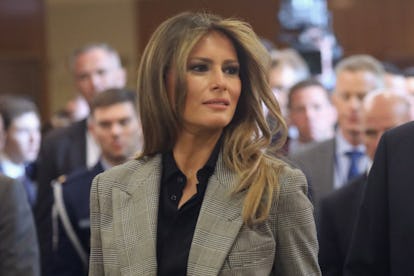 John Moore/Getty Images
The idea that Melania Trump might have a body double was little more than a viral tweet a few weeks ago, after a video of her—or at least a woman with her signature sunglasses and blow-out—stood silently next to Donald Trump while he was giving a TV interview, during which the President strangely remarked, "my wife Melania, who happens to be right here." And while the conspiracy theory has been debunked, Vanity Fair's new investigation into her secretive offices is now proving that the idea actually isn't so far-fetched after all, given just how much distance Melania has kept between herself and the White House.
Sure, Melania still seems to wield more power in the White House than anyone thought, but that remains entirely through her influence on her husband, not via her own moves in the administration. (According to Trump's adviser Roger Stone, she was, it turned out, the one to finally push him into running for president, essentially telling him, "Your friends are tired of this striptease. Every four years you talk about it.")
Even though she's finally moved into the White House—she was the first First Lady to delay doing so, waiting five months after her husband's inauguration—Melania doesn't seem to have any more presence there than she did when she was back in New York. Her offices in the East Wing are still "sparsely inhabited," and her staff is comprised of just nine people—less than half the number that reported to Michelle Obama and Laura Bush when they were in her place in office.
That seems to be, of course, because Melania doesn't have any real interest in further moving in: However much she may have encouraged her husband to run, "this isn't something she wanted and it isn't something he ever thought he'd win. She didn't want this come hell or high water. I don't think she thought it was going to happen," a longtime friend of the Trump's told Vanity Fair. "We had very little to do," a former Obama adviser added about making the transition from the Obamas to the Trump administration in the White House. (For the East Wing staff, that apparently meant sitting around waiting for the phone to ring.)
Three former Obama staffers also said that the White House staff loves Melania, who was also Pope Francis's clear favorite when she visited the Vatican along with her husband and Ivanka, and friends of hers apparently said she is "slowly warming to the job." Still, it remains a mystery what that job actually consists of: She's made hardly any moves on her official cause as First Lady, perhaps because she couldn't have chosen a more laughable one—cyberbullying—to take up, given her that her husband is essentially the poster boy of poorly considered Twitter attacks.
Melania's first words on the subject came in September, and were predictably widely mocked for their hypocrisy. In fact, Melania, whose page on the official White House website lists her magazine covers from her modeling days, seems to have devoted herself to a much more realistic—and successful—cause: Acting as beautifully outfitted eye candy for her husband, plowing through Dolce & Gabbana dress after Dolce & Gabbana dress and drawing endless fascination for wearing a $51,500 jacket to the G7 Summit and packing 11 similarly expensive outfits into the Trumps's visit to Asia.
According to an aide, Melania's "focus," however, is raising her son Barron, who was reportedly the reason why she was slow to move in the White House, wanting him to finish up his school year in New York. Between taking care of him, always being immaculately dressed, and doing her best to stay clear of the spotlight, in fact, Melania seems to have answered the question that Ivana, Trump's first wife, reportedly posed about Trump's presidential run in 2015: "The problem is, what is he going to do with his third wife? She can't talk, she can't give a speech, she doesn't go to events, she doesn't seem to want to be involved." The answer seems to be to live and let live—whether in the East Wing or staying far clear of it.
Related: Melania Trump Might Actually Wield More Power in the White House Than Anyone Thought
See W's most popular videos: