Getting Ready For the Met Gala with Amber Valletta, Who Originated the Idea of Going For It on the Met Red Carpet
The legendary '90s supermodel weighs in on Met Galas of yesterday and today—as well as her reunion with Kate Moss.
---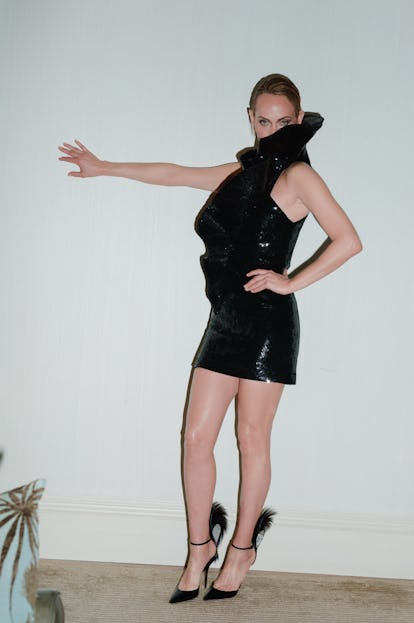 RYAN LOWRY
Amber Valletta can't quite remember the first time she went to the Met Gala. She's been attending since the 90's, when she was first flung into fashion's orbit as one of the original supermodels—a time when the Met Gala, despite having hosted its first crop of philanthropists-about-town back in 1948, wasn't quite the institution it is now.
So the parties all blend together at some point: "They were more just like a really nice night out," Valletta said on the afternoon of the first Monday in May, shortly before the red carpet was unfurled down the steps of the Met. "It wasn't as intense as it is now—it wasn't as big a deal."
It was almost 4 p.m.—a scant hour before attendees were slated to arrive—and we sat in a third-floor suite of her scene-y hotel in Tribeca. (On this particular night, a cluster of paparazzi had staked out the hotel's front entrance waiting for Met Gala departures.) A makeup artist flitted around Valletta, still in her hotel robe; at one point, Pat McGrath, who masterminded her look, dropped in for a brief consult. Valletta's dress, a black sequined mini by Anthony Vaccarello for Saint Laurent, lay on the bed alongside a couple of shopping bags bearing the brand's logo. Valletta started modeling for the label when its eponymous founder was still alive, but she and Vaccarello, who debuted his first collection for Saint Laurent during the Spring 2017 season and with whom she planned to attend the Met Gala, also go way back: They met on set shooting a campaign for his own, now-on-hiatus namesake brand.
Though Anna Wintour is most often credited with fashioning the Met Gala as it's known today—she began chairing the event in 1995—Valletta remembered 2004, the year of "Dangerous Liaisons: Fashion and Furniture in the 18th Century," as a particular inflection point. That year, she arrived in full Marie Antoinette regalia, complete with powdered coif and voluminous John Galliano skirt, much to the surprise of many observers. At the time, Valletta had her own doubts, but "looking back on it, I think it's so badass that I went for it, because it was at a time when people were just starting to get into the theme," she said. "That was a cool moment to be pushing the envelope."
The Costume Institute theme this year, "Heavenly Bodies: Fashion and the Catholic Imagination," lent itself to innumerable elaborate looks derived from Catholic iconography on the red carpet. Met Gala co-chair Rihanna, for example, channeled the Pope in Maison Margiela; Lily Collins opted for a Mater Dolorosa-inspired Givenchy look; and Zendaya arrived cosplaying as Joan of Arc in Versace chain mail.
But Valletta's look wasn't quite so literal. It's was black—"in the religious tone, it would be the darkness before the light," she said—with a dramatic ruffle emerging from its one shoulder. "It could almost be a wing, could be kind of angelic, could be almost like a black orchid," she said, riffing. "There's something like death and rising."
Plus, it reveals a fair amount of skin, she pointed out, taking literally, if anything, the "Heavenly Body" part of the directive. "It's on point, but in a more poetic way," she said. When she first heard the subject, she approached it with eyebrows raised: "It's an interesting theme. It's different," she began, carefully. "I wish it was more inclusive, because I think that's where we are today, and not just one religion, but I'm sure there's a reason, and I would love to understand better why it was just so specific." Still, "I'm super excited and inquisitive," she insisted. "I'm going in with an open mind."
Valletta's day had begun at 7:45 a.m.: matcha latte from the cafe around the corner; "whole special red carpet zhuzh" facial from Joanna Vargas; last-minute fitting; quick workout; a dash to Saint Laurent to pick out a look for her boyfriend, the hair stylist Teddy Charles. An average night out doesn't usually require 10 hours' preparation for her.
"I'm a very low-maintenance person, and I don't really know how to do makeup and hair," she said. "I just do my good skin and some mascara." She paused. "I'm kind of an eyebrow freak," she added. If she does too much—be it hair, makeup, or wardrobe—"it looks like I just walked off a fashion shoot," she said. So, simple. The previous night, for example, she had opted for a white t-shirt and black pants, her hair in loose waves, to see Snoop Dogg DJ.
Even when preparing for the Met Gala, Valletta was wary of going overboard, debating whether to fill out her lower lash line. "What does Pat usually do?" Valletta wondered aloud as they examined a couple reference photos for the look. (This is excellent bumper-sticker wisdom for anyone: "What Would Pat McGrath Do?") "If we do it, it's tiny," she emphasized. (They did it.)
Shortly before departing, Valletta slipped into her dress, pairing it with a single, long drop earring and marabou-embellished stilettos. At the Met, she looked forward to finding her "posse": Vaccarello, as well as Anja Rubik, Mica Arganaraz, Charlotte Casiraghi, Charlotte Gainsbourg, Zoë Kravitz, and, especially, Valletta's "dear friend Kate"—Moss, that is, making her first Met Gala appearance in nearly a decade. (On Twitter, New York Times fashion critic Vanessa Friedman called the Saint Laurent contingent a "flock of fallen angels.")
Of course, there's also the distinct possibility Valletta would run into Rihanna, who she had met at a previous Met Gala. "I told her that I had a crush on her," Valletta said. "I think every girl has a crush on her." She laughed. A religion for us all.