Met Gala 2018: Cardi B and Nicki Minaj Spotted Together
Despite rumors of a feud.
---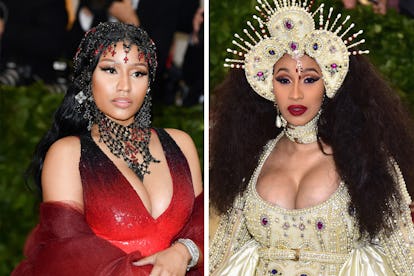 Composite. Getty Images
There could be books written about the relationship between Cardi B and Nicki Minaj, and it seems another chapter played out on Monday night at the 2018 Met Gala. The two divas met on the red carpet—dressed in their best "Heavenly Bodies: Fashion and the Catholic Imagination" garb—for an epic conversation that was either very awkward or, hopefully, a reconciliation (it's hard to tell from Jeremy Scott's facial expressions in the background). The talk couldn't have gone that badly, considering Nicki, who wore a bright red Oscar de la Renta gown with a black and red headpiece, seemed to grab Cardi's arm and baby bump, which were shrouded in an elaborate Moschino by Jeremy Scott gown.
The two rappers first sparked rumors of a feud when fans thought there was subtle lyrical shade in both of the MCs' songs. However, when Minaj and Cardi both appeared on the Migos track "Motorsport," things seemed to be copacetic—until the music video was released and the two women did not appear in any scenes together. Though Nicki has repeatedly dismissed the situation as a result of scheduling conflicts, she also recently opened up about the whole situation in an interview last month. "I remember when I first came in the game…I would only be singing their praises and saying thank you," Minaj said, seeming to imply that Cardi B hadn't shown that same respect to her. "The first interview [Cardi] did, it just hurt me because she looked so aggravated and angry. She just kept saying she didn't hear [my verse on "MotorSport"]….I was like, 'What?'"
Besides her run-in with Cardi B, Minaj also made some news with her appearance. Not only did she state that she chose Oscar de la Renta in order to represent her hometown of New York City, but she also made a reference to her new single, "Chun-Li," with the dark interpretation of the night's theme. "I'm the bad guy and I wanted to make sure the bad guy was here," she reportedly said. Minaj also announced that her new album will be titled Queen and is set to release on June 15. Whether the remark about being the "bad guy" and crowning herself the queen is yet another subtle dig at Cardi B or if they finally squashed any remaining beef, remains to be seen.
See some shots of the conversation and judge for yourself, below.
Related: Nicki Minaj Calls Out Misogyny In the Music Industry Again and Again
Met Gala 2018: See What Celebrities Wore on the Red Carpet
Rihanna at the 2018 Met Gala. Photograph by Benedict Evans for W Magazine.

Benedict Evans
Cardi B at the 2018 Met Gala. Photograph by Benedict Evans for W Magazine.

Benedict Evans
Lily Collins at the 2018 Met Gala. Photograph by Benedict Evans for W Magazine.

Benedict Evans
Donald Glover at the 2018 Met Gala. Photograph by Benedict Evans for W Magazine.

Benedict Evans
Selena Gomez at the 2018 Met Gala. Photograph by Benedict Evans for W Magazine.

Benedict Evans
Katherine Langford at the 2018 Met Gala. Photograph by Benedict Evans for W Magazine.

Benedict Evans
Jasmine Sanders at the 2018 Met Gala. Photograph by Benedict Evans for W Magazine.

Benedict Evans
Rosie Huntington Whiteley at the 2018 Met Gala. Photograph by Benedict Evans for W Magazine.

Benedict Evans
Kate Upton at the 2018 Met Gala. Photograph by Benedict Evans for W Magazine.

Benedict Evans
Winnie Harlow at the 2018 Met Gala. Photograph by Benedict Evans for W Magazine.

Benedict Evans
Alek Wek at the 2018 Met Gala. Photograph by Benedict Evans for W Magazine.

Benedict Evans
Zendaya at the 2018 Met Gala. Photograph by Benedict Evans for W Magazine.

Benedict Evans
Priyanka Chopra at the 2018 Met Gala. Photograph by Benedict Evans for W Magazine.

Benedict Evans
Migos at the 2018 Met Gala. Photograph by Benedict Evans for W Magazine.

Benedict Evans
George and Amal Clooney at the 2018 Met Gala. Photograph by Benedict Evans for W Magazine.

Benedict Evans
Lena Waithe at the 2018 Met Gala. Photograph by Benedict Evans for W Magazine.

Benedict Evans
Ariana Grande at the 2018 Met Gala. Photograph by Benedict Evans for W Magazine.

Benedict Evans
Kim Kardashian at the 2018 Met Gala. Photograph by Benedict Evans for W Magazine.

Benedict Evans
Travis Scott and Kylie Jenner at the 2018 Met Gala. Photograph by Benedict Evans for W Magazine.

Benedict Evans
Blake Lively at the 2018 Met Gala. Photograph by Benedict Evans for W Magazine.

Benedict Evans
Bella Hadid at the 2018 Met Gala. Photograph by Benedict Evans for W Magazine.

Benedict Evans
SZA at the 2018 Met Gala. Photograph by Benedict Evans for W Magazine.

Benedict Evans
Kendall Jenner at the 2018 Met Gala. Photograph by Benedict Evans for W Magazine.

Benedict Evans
Janelle Monae at the 2018 Met Gala. Photograph by Benedict Evans for W Magazine.

Benedict Evans
Emily Ratajkowski at the 2018 Met Gala. Photograph by Benedict Evans for W Magazine.

Benedict Evans
Daniel Kaluuya at the 2018 Met Gala. Photograph by Benedict Evans for W Magazine.

Benedict Evans
Gigi Hadid at the 2018 Met Gala. Photograph by Benedict Evans for W Magazine.

Benedict Evans
Katy Perry at the 2018 Met Gala. Photograph by Benedict Evans for W Magazine.

Benedict Evans
Paris Jackson at the 2018 Met Gala. Photograph by Benedict Evans for W Magazine.

Benedict Evans
Madonne and Nicki Minaj at the 2018 Met Gala. Photograph by Benedict Evans for W Magazine.

Benedict Evans