Six Need-to-Know Brands from Miami Swim Week
Need a revamp of your beach wardrobe? Look no further.
---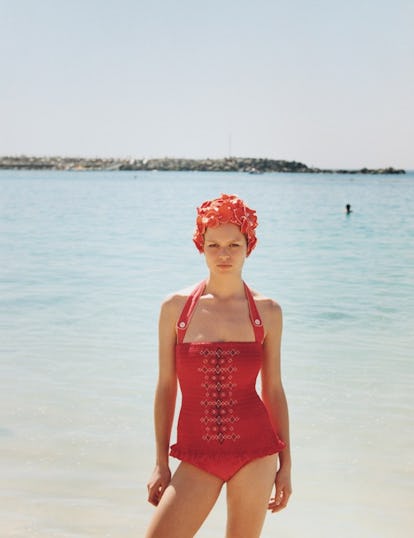 Believe it or not, it is fashion week yet again—and, this time, fashion editors, buyers, and models have descended upon the Magic City for Miami Swim Week. As models strut down the sand covered runways of Miami Beach, on behalf of a plethora of swimwear labels, one venue in particular offered up the chicest new suits from around the globe. Dubbed Destination Miami, this multi-level showroom is in the heart of the Faena Bazaar, and it showed a curated selection of designers from Colombia, Italy, Brazil, and the UK. With a new swimwear label cropping up every day from what seems to be every corner of the earth, and with so many girls donning the same cult-favorite swimsuit thanks to Instagram, it is downright difficult to discover under-the-radar brands that will set you apart. From True Tribe's unisex, hand crafted, and sustainable swim trunks, to Hana Khalil's one-of-a-kind creations, here are six fresh labels taking Miami by storm.
Cala De La Cruz
Founded in Cali, Colombia in November of 2018, Cala De La Cruz offers up a fresh take on femininity with interesting silhouettes and an earthy color palette. They're also doing their part to protect the environment: the label utilizes reusable packaging and digital printing technology to prevent wasted water and toxic byproducts.
Hana Khalil
Though formally trained as a lawyer, the stylist Hana Khalil is also a Central Saint Martins grad—and she sees swimwear as art. She uses pure Italian silk as a canvas and creates limited edition, '70s-inspired suits in her atelier in Brazil.
Ambra Maddalena
Made from 100% recycled nylon, this label—making it's Miami Swim debut—includes multiple silhouettes, gorgeously saturated colors, delightful prints and inclusive sizing. Our fave: the gauzy cover-ups, which drape beautifully on the body.
Sara Cristina
Siblings Sara Villasmil and David De Lima founded Sara Cristina in Venezuela in 2014 as a direct-to-consumer business, but as demand grew, they realized it was time to head to Destination Miami to show off their collection to stores across the world. The line is now based in New York City and uses fabrics from Italy.
True Tribe
Parisian designer Alexandre Sandberg's unisex swim line is made from recycled bottles and fishing nets and printed with hand drawn designs by native artists from all over the world.
Lex
Born out of the designer and her son's love of tropical destinations, the LEX collection—which will debut in October—offers coordinating, bold-colored, clean-lined swimwear for mother and child. The suits are produced in Italy from eco-sustainable materials.