Miaou Taps the "Gucci Gang" Parisian Girl Crew to Star in a Video With Travis Scott
Get to know the girls and watch the video exclusively, here.
---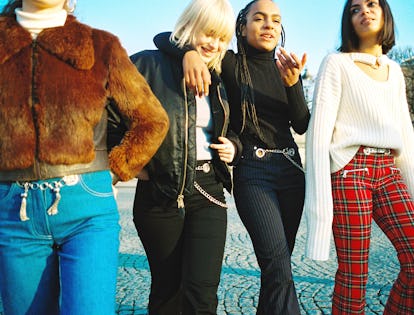 Everyone, it seems, wants to look, eat, and breathe "like a French girl" these days, and know one understands this more inherently—and simultaneously rejects it—than the four Parisian teens who call themselves the "Gucci Gang."
Thaïs Klapisch, Crystal Murray, Annabelle Ferrera, and Angelina Woreth all ran in similar social circles growing up, but finally connected at a house party a in high school, and have been inseparable ever since. While the name of their crew wasn't directly inspired by the Italian fashion label—rather, the flirty email address of a student at their high school—they've become fashion influencers in their own right, each with their own significant social media footprints. Woreth graced the #BornIn2000 April cover of L'Officiel in 2016, and this year, the French label Miaou tapped the girl gang for its Fall 2017 campaign look book and video, which also happened to star the young rapper Travis Scott.
Miaou's hip-hugging pants have quickly become a favorite of major celebrities like Bella and Gigi Hadid, Sofia Richie, and Selena Gomez, but as this video demonstrates, the glitz and glam of celebrity and high-fashion doesn't interest the Gucci Gang. They're not about Vetements or Louis Vuitton—they're just here to chill in a good pair of pants, like French girls.
In so many words, how would you describe the state of youth culture in Paris in 2017? What is the general attitude towards to fashion and popular culture right now?
Angelina: I think that people are becoming more open-minded about the youth, and more supportive, but it's still not enough. Paris is still of snobbish, in a way.
Thaïs: I think there are many people in Paris right trying to push boundaries in the art scene. The only problem is that in France, the older generation doesn't really understand the new way of communicating fashion and art on social media, and they don't want to let go. But it seems like they are starting to slowly understand.
Crystal: The youth culture in Paris is growing day by day! A lot of young people are now getting involved in parties, fashion, and blogs. We have the chance to express ourselves without anybody stoping us.
Annabelle: I believe that the Parisian youth is made up of a universal culture, but is still very edgy and sophisticated. The youth know what they really want.
What do you like to do for fun and what do you wish there was more of in Paris that you maybe see in other cities?
Angelina: I'm going to start a ceramic class with my mum, which I've been thinking about for a long time. In Paris, I wish there were more spaces to party, to go to live shows, or just work spaces.
Thaïs: I really like my city, but I think there could be more concept stores, more modern and innovating places—especially to party—and most of Paris is still really classic, but at the same time, I love this, too.
Crystal: I've been taking pictures with a film camera lately, and I'm starting to like it. The only thing that is missing in Paris is the beach!
Annabelle: Paris, to me, is the most beautiful city in the world. It feels like we aren't really missing anything, except open-mindedness. Even though Paris is quite edgy and sophisticated when it comes to style, it is still a city where people judge each other quite easily. But I love you, Paris.
Favorite vintage shops in Paris:
Angelina: Emmaüs.
Thaïs: Thanx God I'm a VIP, Emmaüs, Guerisol, and Free'P'Star.
Crystal: I often go to Free'P'Star to find girly dresses, or Thanx God I'm a VIP, too, where I can find some really nice vintage Chanel pieces for not much.
Annabelle: Emmaüs, as well.
Young French designers you admire:
Thaïs: I like Jacquemus, Applecore, Niuku, and Jour/ne.
Crystal: Of course, Jacquemus! Plus, Amélie Pichard and a brand called Applecore made by two young Parisian dudes.
Annabelle: Jacquemus—I loved the last collection. The bag called "Le Grand" is wonderful.
What you want to see more of from high-fashion French houses:
Angelina: More collaborations with brands made by young people that are ambitious and talented.
Thaïs: I would like to see them help the young generation and integrate them more. And, of course, they should be more open-minded about the models when it comes to diversity of bodies and color.
Crystal: High-fashion French houses have been opening-up to young people, and that's the only thing I really wanted to see!
Annabelle: They should take more risks; be more fantastical. Sorry, I love Italian fashion these days.
French icons you aspire towards:
Angelina: Françoise Hardy, Jean Paul Belmondo, and Catherine Deneuve.
Thaïs: I think my biggest inspirations are taken from the old French singers. I like Charles Aznavour—I think his songs are still really relatable today. I also like Dalida a lot.
Crystal: Leila Alaoui. She was a photographer who died in the terror attack in Burkina Faso, and she was very talented. She was mixing art with the terrible reality in the world. Her last work, "Crossing," was about immigration. It touched me so much that I cried in the middle of a museum.
Annabelle: Johnny Hallyday! Ha. French actresses are the most beautiful, in my opinion. They perfectly represent the elegance France is famous for. These days, I feel very Isabelle Adjani.
Instagram accounts that you're obsessed with right now:
Angelina: @TheGrinchChannel.
Thaïs: I really love @BoobaOfficial.
Crystal: @TheGrinchChannel.
Annabelle: @SophieFontanel is really cool and fun. I love her style.
Everyone wants to be "Like a French girl" these days. But what makes a "Gucci Gang Girl"? And what do you think about that idea in general?
Angelina: Just enjoy your group of friends and have fun. I don't think everyone wants to be French, to be honest. But everything is great about being a French girl.
Thaïs: In the beginning, we were just a group of Parisian girls who happened to have the same interests in music, cinema, fashion, and culture in general. I think being a French girl is kind of cool. I feel like we are really independent women and we feel very free in our minds.
Crystal: There are no ingredients to be a Gucci Gang girl, it's us—the real us! Everybody needs to find their own identity, and we've found our own and joined our spirits together. The French girl is inspired by the whole world. We are a multitude of inspirations, shaping ourselves with the beauty of this planet.
Annabelle: I believe that what makes a girl French is the fact that she feels comfortable with herself. Stay natural.
If the Gucci Gang had a pair of "traveling pants," what would they look like, (besides Miaou pants)?
Angelina: Large, comfy pants that go with everything.
Thaïs: I think I would choose a pair of jeans, for sure.
Crystal: Probably disco pants.
Annabelle: I have a swimsuit that I bought from American Apparel last summer. It would fit all us, even though we have completely different bodies. We actually all wore it during our trip to Portugal last year.
What was is like shooting with Travis Scott for Miaou?
Angelina: Fun, and quite last minute!
Thaïs: When we originally did the video, we didn't knew that we were shooting with him, so I was very surprised. It was a good experience for us to shoot with someone like him from the U.S., who is internationally known for his music. We all really appreciate his music, so it was great to meet him and see what he looks like in real life.
Exclusive: Watch Miaou's fall 2017 campaign video with the Gucci Gang and Travis Scott, below.