Michael B. Jordan Is Here to Replace His Thirsty Fans' Retainers
"I feel partly responsible," he tweeted at a teen who lost it when the actor took off his shirt in Black Panther, to the point that she had to pay an emergency visit to her orthodontist.
---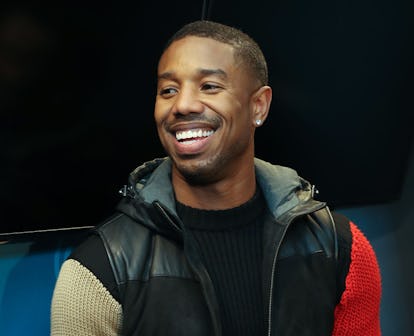 Rob Kim/Getty Images
Michael B. Jordan has more than proven himself as an actor, most recently, of course, as a villain in Black Panther, aka the massive blockbuster hit that even Oprah can't stop talking about. As he's risen to fame, Jordan has also more than proven his capabilities in another field: existing as a living and breathing thirst trap, and doing it so well that it's actually starting to get dangerous.
Doctor-patient confidentiality apparently doesn't apply to orthodontics, seeing as we now know just how much harm thirstiness for Jordan can cause with a saga that began when the orthodontist of a teenager named Sophia Robb, after seeing her for an emergency visit, couldn't help but post about the whole ordeal. "The funniest s— ever to me," he wrote on Tumblr—presumably expecting his patient wouldn't see it, given how casually he recounted "this tiny 17 year old girl thirsting so goddamn hard she busted steel" when Jordan took his shirt off in the film.
In the end, though, Robb did see his post, because it naturally went viral. Thanks to her Twitter, we've joined her on her journey of discovery, starting on Monday: "Wait. That girl is me. That is my orthodontist's tumblr. This is a post about me? I'm going to kill myself," she wrote in a tweet, now retweeted over 100,000 times, with a screenshot of her orthodontist's extremely cringe-y post, which, in turn, has been liked over 100,000 times. Since then, things have gotten so serious that Robb said the police went to her house after getting calls about how she was a danger to herself, leading Robb to assure the hundreds of thousands now at her attention that she wasn't actually serious about suicide.
At this point, even Robb's dad is tweeting about the whole affair, assuring the public that their "family has already set aside funds sufficient to purchase yet another retainer, in anticipation of Mr. Jordan's next film." Inevitably, the next step was for Robb's viral post about her orthodontist's viral post to catch Jordan's eye, which it did on Tuesday; he not only follows Robb, but he also publicly offered to replace her retainer.
Also quite predictably, Robb has come to embrace her newfound fame. Her Twitter bio is now "I'm the girl who broke her retainer over Michael B Jordan in Black Panther," and her avatar is currently a photo of her showing off her impressive set of pearly whites. She's also starting off this snowy Wednesday morning with an appearance on Buzzfeed's AM to DM. Her Instagram bio, on the other hand, is now much more to the point: "It's me, retainer girl."
Related: A Methodical Approach to Rating Michael B. Jordan's Instagram Thirst Traps