Michelle Obama Has Some Workplace Advice for Meghan Markle and Also You
And it's not "lean in, because that s—t doesn't work all the time."
---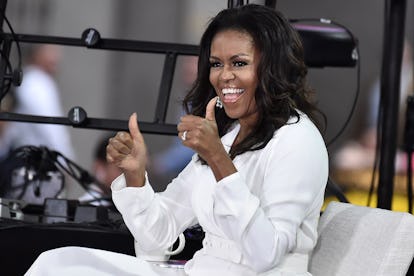 Steven Ferdman/Getty Images
Michelle Obama is back. Though many lamented the Obamas' retreat from the spotlight after Donald Trump's victory in the 2016 election, they were always going to return—they just had to get in some sun and surf and yachting with Bruce Springsteen and Oprah in first. Now, Michelle Obama is back, touring her new memoir, Becoming, and wantonly dispensing advice on that elusive work-life balance and also how to manage rapidly ascending to political soft power.
Okay, maybe that latter category will only find a limited audience. In the latest issue of British Good Housekeeping, which finds the former first lady on the cover, Michelle Obama offers some sage wisdom to newly minted royal Meghan Markle: "The pressure you feel—from yourself and from others—can sometimes feel like a lot," Obama said, according to the magazine. "My biggest piece of advice would be to take some time and don't be in a hurry to do anything." (Perhaps she heard that Markle has been taking to waking up at 5 a.m. and peppering her staff with ideas and questions, eager to get s—t done.) "I spent the first few months in the White House mainly worrying about my daughters, making sure they were off to a good start at school and making new friends before I launched into any more ambitious work," she added. "I think it's okay—it's good, even—to do that."
"There's so much opportunity to do good with a platform like that," she went on. "I think Meghan can maximize her impact for others, as well as her own happiness, if she's doing something that resonates with her personally."
There's one thing Michelle Obama would not really recommend—to Meghan Markle, or to anyone. As she said at an event promoting Becoming at the Barclays Center in Brooklyn this past weekend, "That whole 'so you can have it all.' Nope, not at the same time. That's a lie. And it's not always enough to lean in, because that s—t doesn't work all the time." (I mean, does it really come as much of a surprise that advice that amounts to "just try harder" hasn't done all that much to correct structural gender inequality?) Her workplace advice is remarkably consistent—for Meghan Markle, and for the general book-tour-attending public. It's perfectly fine to do one thing at a time. Really!
Related: This Apparent Meghan Markle and Kate Middleton Drama, Explained