Go Inside Michelle Pfeiffer's For-Sale $29.5 Million San Francisco Estate
Pfeiffer is reportedly trading in Silicon Valley for Hollywood.
---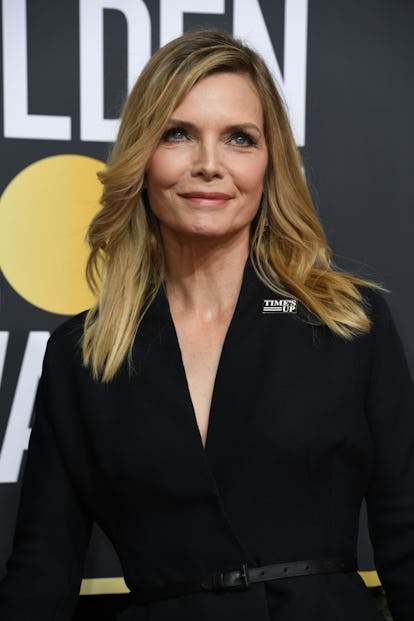 VALERIE MACON/AFP/Getty Images
Ahead of her metamorphosis into one of Marvel's fleet of superheroes as Janet Van Dyne, aka the Wasp, in the upcoming Paul Rudd–starring Ant-Man and the Wasp, the actress Michelle Pfeiffer is divesting of not one but two San Francisco homes. The 8.67-acre estate, which comprises two adjacent houses and a 10-stall octagonal horse barn, was listed for sale last month for $29.5 million. (The neighborhood, Woodside, is among the most expensive in the world.)
Pfeiffer and her husband, David E. Kelley, reportedly acquired the whole property in two separate purchases—one, for $12 million, in 2004, and the second, for $8.6 million, in 2008—so the couple stands to make a sizable profit from the sale. The main house, which includes four bedrooms and five bathrooms, was built in 1940, while the stable dates back to 1925; the property also features a tennis court, gym, swimming pool, hot tub, spa, no fewer than three guest apartments, an orchard, and turnout areas for potential equine residents. Last year, Beyoncé and Jay Z bought a new Los Angeles home so sprawling it's been reported each member of the family can have his or her own wing—but Pfeiffer's expansive property sounds like it might offer similar solitude.
The estate can be found at 100 Why Worry Lane, a small street populated by Silicon Valley–adjacent people and apparently named for its proximity to the San Andreas Fault. Comforting! This, evidently, has nothing to do with their decision to sell, though—according to the real estate blog Yolanda's Little Black Book, now that Pfeiffer and Kelley's son and daughter have moved out, the couple is moving to the more reasonably sized house they bought in Los Angeles two years ago.
Previously, they were rumored to have been selling a similarly priced but far larger ($28.8 million for 340 acres) estate in British Columbia, a massive cabin that didn't even have an address. (Why would you need something as quotidian as a postcode for a home that's only accessible by boat?) If they're looking to invest in something new, we have an idea. See inside the luxurious, for-sale San Francisco property, below.