Michelle Williams Is Reportedly Engaged to Andrew Youmans
The actress is officially engaged to financial consultant Andrew Youmans.
---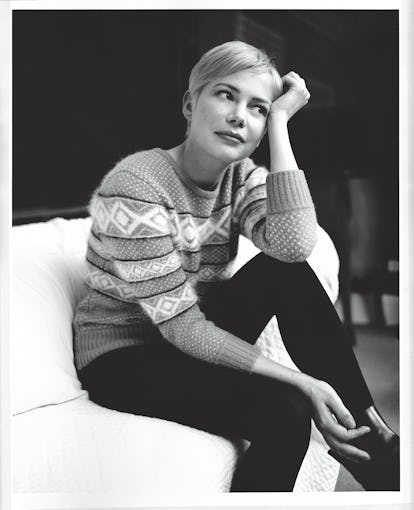 Andreas Laszlo Konrath
Remember when Michelle Williams wore a diamond ring while on the Golden Globes red carpet, only to tell disappointed reporters from People that it was just "beautiful jewelry" and not an engagement ring? Well, according to a report from Us Weekly, those red carpet reporters can breathe a little bit easier knowing they were right, because Williams is reportedly engaged to Andrew Youmans. Youmans, who graduated from both Dartmouth College and Harvard Business School, is an investor and financial consultant.
In the middle of last summer, the pair was spotted in Rome, while taking a break from filming Ridley Scott's All the Money in the World, fueling what were then just rumors that they were a couple. He was seen on a New Year's Eve vacation in the Bahamas with Williams and her daughter Matilda. While Williams is typically quite private about her personal and dating life, the diamond ring was visible on her hand even then. While no comment on the engagement has yet to be given from Williams' other proclaimed "love of my life," Busy Phillipps, surely the actress must be thrilled for her best friend. Maybe she'll even dye Williams' hair pink again for the wedding?
The good news of an engagement comes after what was likely an exhaustive couple of weeks for Williams, who appeared on the 2018 Golden Globes red carpet with activist Tarana Burke as her date in support of the Time's Up initiative (other actresses even credit Williams with the idea to bring political activists as dates to the ceremony). After her appearance at the ceremony for the Golden Globe nominated All the Money in the World, it was later revealed that after the decision was made to recast Kevin Spacey with Christopher Plummer and re shoot scenes for nearly a month over the Thanksgiving holiday, Williams was paid less than 1% of the salary her co-star Mark Wahlberg acquired—she made about $1,000 while his team negotiated for $1.5 million, and he has since announced that he will donate the full earnings to the Time's Up legal defense fund which advocates for equal pay in the workplace.
Related: Michelle Williams Responds To Mark Wahlberg Decision To Donate All The Money In The World Salary To Time's Up